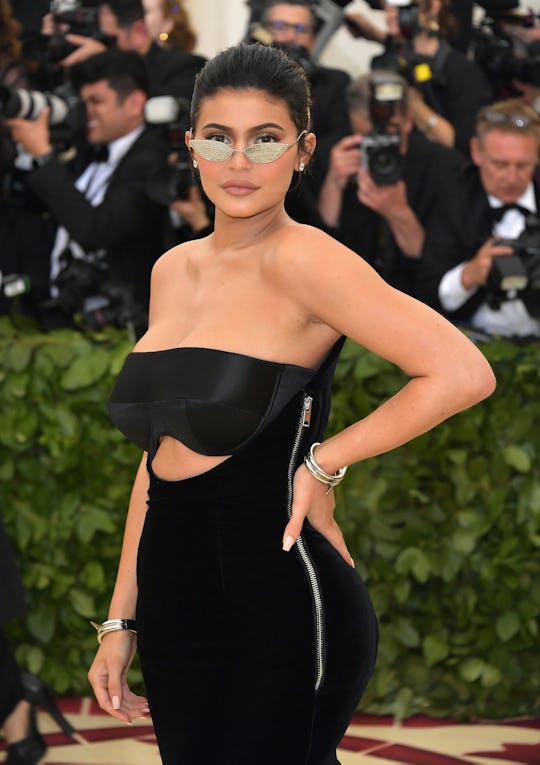 Neilson Barnard/Getty Images Entertainment/Getty Images
Kylie Jenner's Mother's Day Balloons Spell Out A Hilariously Unexpected Message
Mother's Day 2018 was a big one for the KarJenner women. This year, Kylie and Khloé became mothers for the first time, Kim became a mother for the third time, all five sisters became aunts to more nieces, and Kris is now a grandmother to nine grandchildren. Whoa. All that being said, it's no surprise that new mom Kylie Jenner got a hilariously awesome Mother's Day gift on Sunday.
The makeup mogul, 20, welcomed her daughter Stormi Webster in early February 2018. Based on her Instagram story, it's clear that she celebrated her first Mother's Day in style. Kylie shared a photo of a living room featuring pink balloons someone gave her for the holiday — and the balloons spell out "MILF."
No word on who the balloons came from, but I wouldn't put it past her bae Travis Scott, one of her goofy sisters, or her BFF Jordyn Woods to pull off something like this. The balloon's sentiment would be most appropriate coming from Scott, and considering how quiet the rapper has been on social media since Kylie announced the birth of their child, the balloons would be that much more hilarious if they came from him.
The photo Kylie shared also featured a bunch of spherical silvery balloons, rounding out the festive look of the living room.
All that being said, the MILF balloons might have come from her sister Kendall. Kourtney shared a ton of photos of her Mother's Day treats on her Instagram story, including a bouquet of flowers and a note from Kendall that read:
I LOVE YOU!!! Happy Mother's Day. All my sisters are MILFs! Love, Kenny💗
Who knows — perhaps Kendall found a different way to tell all of her sisters that they were MILFs this weekend.
Kourtney was not the only KarJenner mom to receive flowers for Mother's Day. Kylie shared one more Mother's Day photo to her Instagram story, revealing that the balloons were accompanied by at least five huge bouquets of pink flowers.
And speaking of flowers and balloons, Kourtney also received her fair share of Mother's Day treats. She shared a video of the elaborate balloons she received for Mother's Day, which read "Happy Mother's Day Mom."
Kourtney's kids also decorated the staircase in their house with flower petals in honor of the holiday. Kourtney shared a video to her Instagram story of her journey following the petals downstairs and into a tent filled with a homemade breakfast and even more flowers.
Plus, Kourtney Instagrammed a short video with her niece Stormi (aka "Stormaloo," according to Kourtney). It's no surprise that some of the KarJenner sisters got together on Mother's Day, considering how close they all are. Plus, how freaking adorable is Stormi?!
Boy, this family sure likes balloons — and flowers. Kylie's older sister Khloé welcomed her first child, a daughter named True, last month. On her Instagram story, Khloé shared a photo of gold balloons spelling out her nickname, "Koko." She also posted a few shots of not one but two floral arrangements that spelled out "MOMMY" among lush bouquets of flowers.
She also took to Twitter to share how excited she was to be celebrating the holiday:
Kim Kardashian didn't brag about Mother's Day balloons and flowers the same way her sisters did (though you can't really blame them, those were some pretty gorgeous balloons and flowers). Instead, she shared an artistic black-and-white photo with her three children. The caption is super relatable for any parent who has ever tried to take a nice photo with their brood:
You don't even understand how many lollipop bribes this pic cost me...but it was so worth. Happy Mother's Day to all the moms out there. I'm the luckiest mom in the world to have these three babies in my life!
So while the identity of the person behind Kylie Jenner's MILF balloons may remain a mystery, it's clear that the KarJenner sisters all had a fabulous Mother's Day.