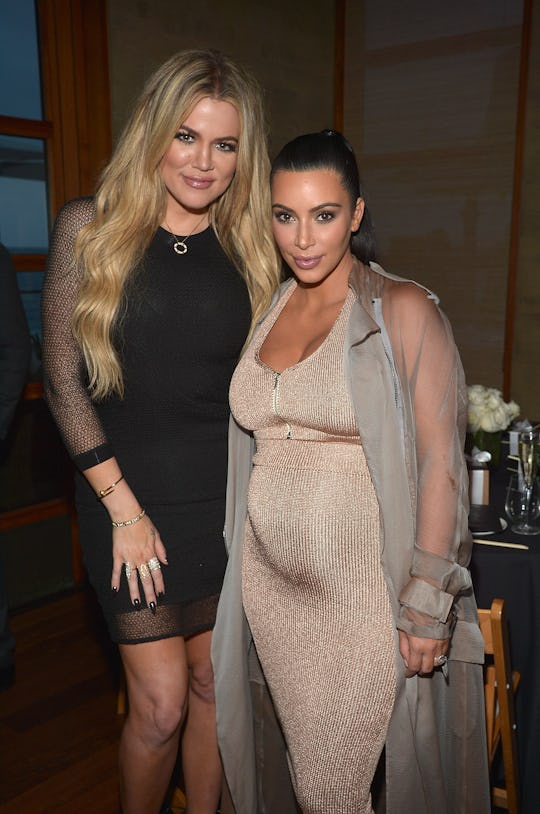 Charley Gallay/Getty Images Entertainment/Getty Images
Kim Kardashian Shared A Topless Photo, & Fans Are Loving Khloé's Sweet Response
If you've ever watched Keeping Up with the Kardashians, you know that the Kardashian sisters are super close, not shy about a thing, and very supportive of each other. And believe it or not, all three of those qualities came together when Kim Kardashian posted an almost-naked mirror selfie on Instagram this Thursday. In the shot, Kim is posing in a bathroom, wearing nothing but sparkly undies. Her arms are very strategically placed to cover part of her breasts, and she has her shoulder-length blonde hair. But what piqued fans' interests was something in the comments section. Khloé shared her support for Kim's nude selfie by commenting: "Show it off!!!! I'm here for it!!!!"
In just 45 minutes, Khloé's comment racked up nearly 7,000 likes. (Dang, that's more than the total likes I've ever gotten on every Insta I've ever posted.) It's not surprising that fans would love an interaction like this, especially considering that Kim and Khloé have both been in the news a lot lately. Kim just had her third child, a daughter named Chicago West, via surrogate, and Khloé is currently pregnant with her first child.
Here's the shot, along with Khloé's amazing comment.
It's nice to see such a supportive comment on one of Kim's more risqué photos, because that's not always how it is. Kim has been perpetually shamed for posting similar photos for years. And not only have people shamed her for posting provocative photos, but, even worse, many have also mommy-shamed her for it. When she posted the infamous black bars nude in May 2016, several people left comments criticizing her for celebrating her sexuality even though she was a mom. "You are a mother," a user commented at the time. "You have no self respect. Smh wonder how she feel if North was to post a pic like this when she's older."
And just last week, right around the time her daughter Chicago was born, Kim Instagrammed a throwback photo of herself nude in bed. Commenters once again failed to see that sexuality and motherhood are not mutually exclusive, leaving comments that said the photo were "disgusting for a mom," and evidence that she was "not a good role model."
Kim has made it clear that she is not buying into that false narrative. In August 2015, when she was pregnant with Saint, Kim shared a nude mirror selfie of her pregnant self. In the caption, she expressed her frustration with haters telling her she is fake, and she explained how everyone's body — especially when it comes to pregnancy — is different.
First they said I'm too skinny so I have to be faking it...Now they say I'm too big so I have to be faking it...SMH! Some days I'm photographed before I eat & look smaller, some days I've just eaten & I look bigger. It's all a part of the process. I think you all know me well enough to know I would document the process if I got a surrogate. Everyone's body is different, every pregnancy is very different! I've learned to love my body at every stage! I'm going to get even bigger & that's beautiful too! I'm blessed to even be pregnant & even luckier to not have preeclampsia as far as I know, so I don't have the swelling issue this time! They also say your body carries a boy different than a girl! Whatever the case may be I'm grateful to God for this miracle & no matter what rumors or comments you throw my way this time they truly don't affect me!
It's awesome that Kim has found a way to move past the rumors and focus on being grateful. Shaming someone's body is never OK, especially when your shaming weapon of choice is an argument as weak as "you can't post a sexy photo because you're a mother." Moms can be sexy just as much as anyone else, and it's time to stop repressing female sexuality.
Check out Romper's new video series, Romper's Doula Diaries:
Watch full episodes of Romper's Doula Diaries on Facebook Watch.