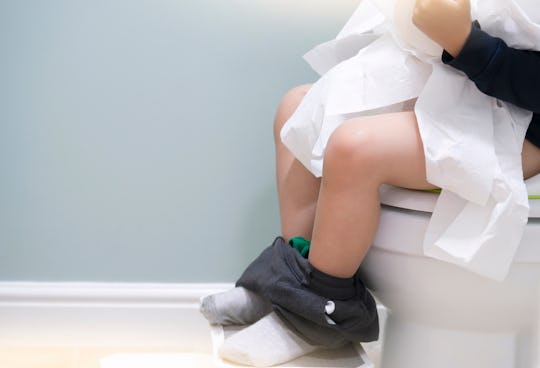 Shutterstock
Here's What To Do If Your Kid Isn't Quite Potty-Trained In Time For School
There's so much to worry about in the weeks leading up to your child's first day of school: What if they're homesick? What if they're not homesick? Will they make friends? Did you send them with enough snacks? And if your kid has issues with potty training when they go to school, you'll have even more anxiety. But toilet problems don't have to hold them back, if you have a game plan.
First things first, know you're not alone. Many small kids go to school without being fully potty-trained. In fact, a teacher's union in Buffalo is calling for their district to make a potty-training policy because so many children aren't done with diapers when they get to school, as KSHB reported. It's a common problem, especially if your child is just starting preschool, so you don't need to feel embarrassed about it. They'll probably be one of many kids still getting the hang of it.
Despite the solidarity, you still have to figure out what you're going to do about your little one's toilet issues. Romper spoke with Allison Jandu, author and owner of Potty Training Consultant LLC, for advice on how to prepare your kiddo for their first school experience. "My biggest concerns always boil down to the child's self-confidence and sense of independence," Jandu explains to Romper via email. "If your child is still in diapers when the rest of their class isn't for example, it could be very embarrassing for them." So read on for her tips on how to help your child transition, and take comfort in having an action plan. Your toddler's got this.