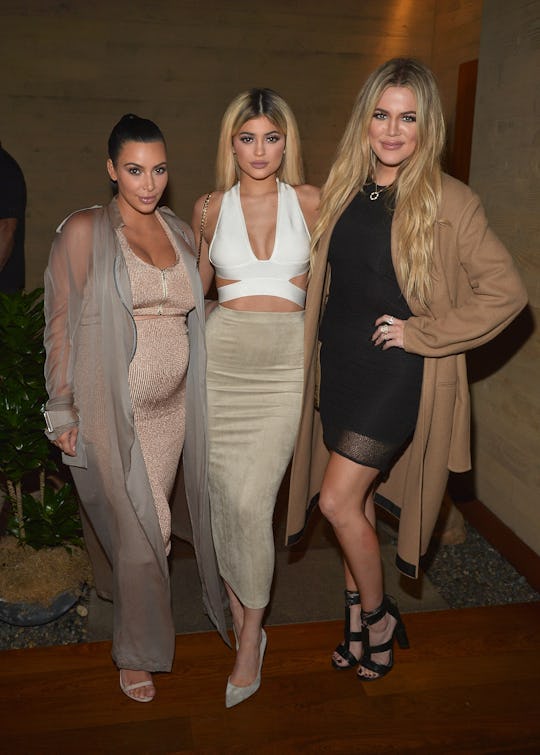 Charley Gallay/Getty Images Entertainment/Getty Images
Kim Kardashian Breaks Her Silence On Khloe's & Kylie's Reported Pregnancies
I can't decide if Kim Kardashian-West is terrible at keeping secrets, or really amazing at it. During a recent interview with Ellen host Ellen DeGeneres, the reality star was clearly trying her hardest to keep track of all the secrets that needed to be kept about the Kardashian-Jenner clan. Not to mention her own secrets about the third child she's expecting via surrogate; although to be fair, those aren't really "secrets," just information the family would like to keep private for now. During the interview, Kardashian broke her silence on Khloe's and Kylie's reported pregnancies, a subject she hasn't spoken about since the news initially broke. And considering these reported pregnancies have been all over the news lately, you have to admire her continued reticence.
When the subject of Kylie and Khloe came up during Kardashian's interview with DeGeneres, the mom of two (4-year-old daughter North and 2-year-old son Saint with her husband, rapper Kanye West) made it clear she wasn't willing to speak about her sisters until they were ready. According to Us Weekly, Kardashian said:
Alright, I'm going to break it down. This is how we work in the family. When there are lots of rumors, we have these family group chats and we threaten each other's lives if we speak for the other one. So, for the safety of my life … we just decided there is so much that goes on that we respect each other's right to speak for themselves. So I will speak about myself, and hopefully they can come on [the show] and address whatever rumors you might have.
Multiple news outlets reported back in September that Kylie Jenner and boyfriend, rapper Travis Scott, are expecting their first child together. The 20-year-old reality star has never spoken publicly about the pregnancy rumors, according to People, but sources close to the family have confirmed that Jenner is due in January and is expecting a little girl. Jenner's rep has not responded to Romper's request for comment, and Jenner recently shut down paparazzi photos she claimed were photoshopped to make it look like she had a bump.
Multiple sources also reported that older sister Khloe Kardashian and boyfriend, NBA basketball player Tristan Thompson, are expecting their first child, just one day after news broke about Jenner's reported pregnancy. According to Us Weekly, multiple sources have confirmed that Khloe is indeed pregnant and expecting a baby boy, but the Revenge Body star has yet to confirm those reports. Khloe's representative has not responded to Romper's request for comment, and there is no concrete evidence of the pregnancy other than confirmation from mysterious "sources."
While Kim Kardashian made it clear that she has no intention of sharing her sisters' news until they were ready to share it themselves (and honestly, I wouldn't expect any less from the fiercely loyal Kardashian-Jenner clan), she did let one of her own secrets slip. She accidentally told Ellen the sex of her third baby: it's a girl!
Kardashian was telling a cute story about her recent baby shower with daughter North when the news just sort of slipped out, according to E! News:
My daughter thinks she's really tricky. We had a baby shower over the weekend. I thought, 'I really do want to have a baby shower because I want her to feel that something's coming and for her to really understand it. People brought toys and gifts. She was opening them all up the next day and she said, 'Mom, Baby Sister's not here. I think I need all of her toys in my room. I'll play with them and just make sure they're OK for Baby Sister.'
So there you have it, Kardashian and West are expecting a baby girl via surrogate. Sure, she might have spilled the beans accidentally, but they were her beans to spill. And I personally really respect her for honoring her sisters' privacy; after all, it's their news to share. Not hers.
Besides, she has enough going on in her own life without dishing the dirt on her family, right?
Check out Romper's new video series, Romper's Doula Diaries:
Watch full episodes of Romper's Doula Diaries on Facebook Watch.