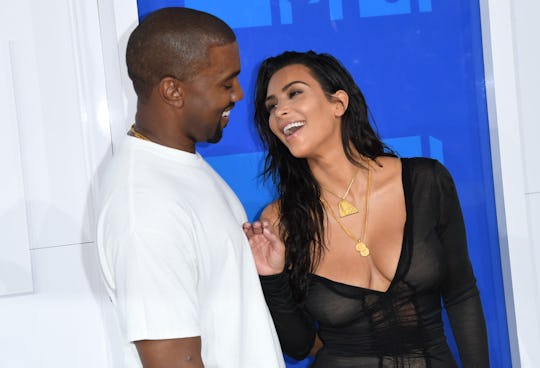 ANGELA WEISS/AFP/Getty Images
We Now Know The Due Date Of Kim K.'s Third Child
It seems like 2018 should be a spectacular year for Kim Kardashian and Kanye West. After having a pretty terrible year in 2017 (Kardashian was robbed in Paris and West reportedly suffered a mental breakdown and had to cancel part of his Life Of Pablo tour), things are looking up for the couple. According to TMZ, Kardashian and West's third child is reportedly due in January, and naturally the internet had some feelings. Most of them good... so far.
Back in June, TMZ initially broke the story that the reality star and her rapper husband had hired a surrogate to carry the couple's third child. Kardashian and West, who were married in 2014, are parents to four-year-old daughter North and 21-month-old son Saint. The Keeping Up With The Kardashians star had high-risk pregnancies with both of her children; she suffered from a condition called placenta accreta, where the uterus doesn't expel the uterus from the body. It can be a potentially life-threatening condition, and Kardashian wrote of her harrowing experience on her website after giving birth to North in 2013:
My doctor had to stick his entire arm in me and detach the placenta with his hand, scraping it away from my uterus with his fingernails. My mom was crying; she had never seen anything like this before. My delivery was fairly easy, but then going through that — it was the most painful experience of my life!
Rather than endanger her life a third time, the couple reportedly chose to use a surrogate.
Some fans were excited about the news.
Others, not so much,
According to TMZ, the couple's surrogate is reportedly pregnant and due to deliver their third child in January. Which is in line with a July report from Us Weekly claiming the surrogate was three months pregnant and due in January. Now that the due date is getting closer, the whole Kardashian clan is apparently super excited. A source close to the family told People:
The entire family is over the moon. Kim had been looking for a surrogate for months until recently when she found the perfect candidate. Given her health scares in the past, Kim felt the need to hire a surrogacy agency that helped serve as the liaison in finding a healthy woman who would be a great surrogate option for her and Kanye. Both of them have been super involved in the process.
While there have been multiple reports that the couple have hired a surrogate (and paid her $45,000 to carry their third child), neither Kardashian nor West have spoken publicly about the possibility. Nor has any member of their family. But several reports, including one by People, quote sources who claim that Kardashian and West worked tirelessly with a surrogacy agency to find the ideal candidate to carry their third child. And they apparently found a match.
Hopefully, all will be well for the couple and their growing family. After a long, difficult 2017, they are due for a little joy.
Check out Romper's new video series, Romper's Doula Diaries: