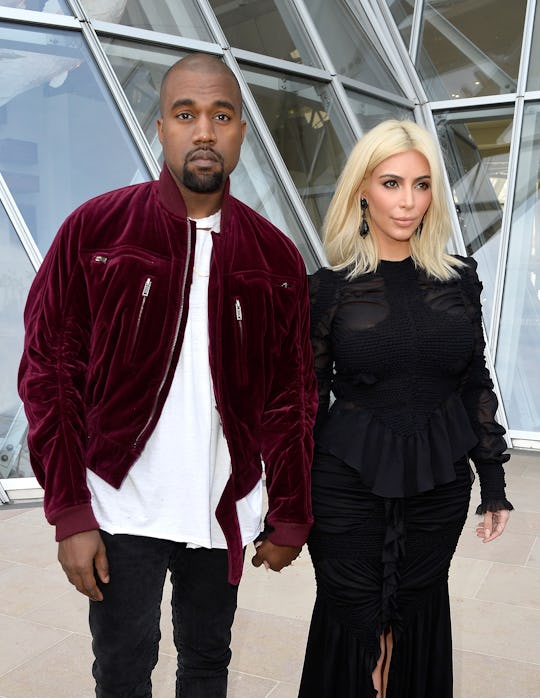 Pascal Le Segretain/Getty Images Entertainment/Getty Images
Here's Why Kim Kardashian Isn't Feeling Kanye West's Desire For A Big Family
Kim Kardashian and Kanye West are the proud parents of three adorable children, but on Sunday's episode of Keeping Up With The Kardashians, the reality star revealed that she and Kanye aren't exactly on the same page when it comes to future family planning. In fact, Kim Kardashian said Kanye West wants seven kids, according to People, and joked to friend Larsa Pippen that he was "harassing [her]" to have more children — four more, to be specific. Kim said that West was "stuck on seven," yet aside from the fact that that's just a lot of kids, she admitted that the current state of the world has also left her feeling majorly anxious about creating more tiny humans.
Kim explained that one big reason why she wasn't eager to expand her brood was because she already stays awake at night "thinking about how [her] kids will survive in a crazy world like this," according to People, and looked at the February mass shooting at Marjory Stoneman Douglas High School as a clear example.
Yet while her concerns may be causing her to reconsider having more children, they also seemed to be inspiring her to activism: later in the episode, the reality star attended the March For Our Lives in Washington, D.C., and even had the chance to meet with a group of young people afterward to discuss the need for gun law reform.
Over the past few years, Kim has unexpectedly emerged as a growing social justice advocate: in 2016, she criticized the Senate for voting against gun reform in the wake of the Pulse shooting in Orlando, according to CNN, and on Gun Violence Awareness Day in 2017, she spoke out on her app about the need for stricter gun laws in the United States, according to Entertainment Tonight. And following the Parkland shooting in February, Kim tweeted that Congress to "do [its] job and protect Americans from senseless gun violence."
Gun reform definitely isn't the only cause close to her heart though: Kim has also begun pushing back against laws requiring mandatory prison sentences for non-violent drug offenders, and after she was successfully able to help 62-year-old Alice Marie Johnson have her life sentence commuted in June following a meeting with President Donald Trump, according to TODAY, she is now working to help 30-year-old Chris Young, who was sentenced in 2010 to life in prison without parole after he'd been arrested for possession of marijuana and cocaine.
In other words, its clear that, like many moms, Kim is seriously worried about the current political and social climate, and she's trying her best to use her privilege and platform to make a difference. That actually seems particularly notable given that her husband has made absolutely no secret of his controversial pro-Trump stance, but in an interview earlier this month with Alec Baldwin, Kim explained that she was fine with the fact that she and her husband don't exactly see eye-to-eye politically, according to Billboard, and said, "I let him have his own views and opinions even if they're different than mine."
While they may be entirely able to coexist with differing political views though, it does seem like it has affected their opinions on having kids. Given that she and Kanye have already had to endure many ups and down when it comes to having babies — she had extremely complicated pregnancies with 5-year-old North, and 2-year-old Saint, and ultimately turned to surrogacy to welcome her 8-month-old daughter, Chicago — it already wouldn't be exactly surprising that Kim might have some hesitation to have more children. But add in her very real mom-anxiety about keeping her kids safe, and it's especially understandable that she's reluctant.
With three kids, and the kind of financial resources most women can only dream of, Kim may not exactly represent the average mom, but her ambivalence also doesn't seem particularly unique. In July, The New York Times reported that many young adults are either having fewer children than they expected to, or that they simply are choosing not to have any at all. Some of the reasons? In a survey of 1,858 American men and women ages 20 to 45, issues like the cost of child care and lack of parental leave were big sticking points, though more than a third said they worried about global instability and domestic politics, while 33 percent also worried about climate change, according to The New York Times.
In other words? While most couples likely aren't debating whether or not to have super-sized families, many do seem to be taking a number of social concerns into consideration when they do deliberate about how many kids to have, or whether they should even have kids at all. And although Kanye may not be thrilled about his wife's hesitant stance, it seems like there are probably many women out there who can definitely understand where Kim is coming from.