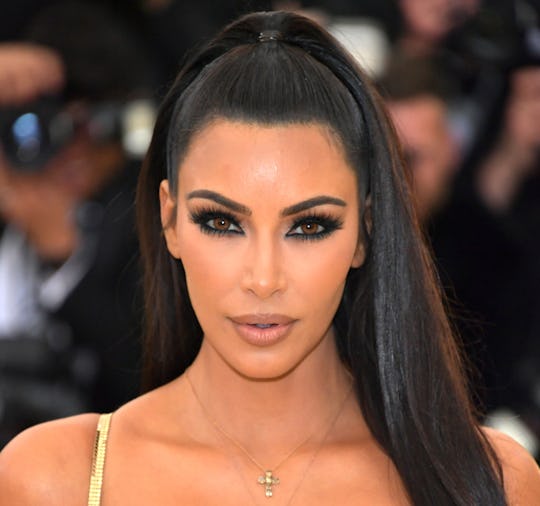 Neilson Barnard/Getty Images Entertainment/Getty Images
Kim K's Planning A New Photo Shoot & The Participants Are Perfection
Kardashian/Jenner fans take note, because something big is about to happen. We've been reading about the big expansion for years, obsessing over new relationships and, more importantly, new babies. After all that speculation, all of the coy secrets and subterfuge and heavily filtered pictures, all of our patience is about to pay off. Kim Kardashian West is planning a photo shoot with the three new babies, and it's obviously exactly what we've all been waiting for.
Kim K welcomed daughter Chicago (or "Chi" as she's called by her mom) West on Jan. 15 via surrogate with husband Kanye West. The baby girl is the couple's third child, joining 5-year-old sister North and 2-year-old brother Saint. Chi's birth was quickly followed by that of her 4-month-old cousin Stormi Webster, the first daughter for youngest sister Kylie Jenner and her boyfriend, rapper Travis Scott, who was born on Feb. 1. Last but definitely not least is Khloé's little girl with boyfriend Tristan Thompson, True, who was born on April 12. All three mothers kept their pregnancies under wraps for quite some time, which obviously whipped the internet into a curious feeding frenzy. And now that the three little girls are here, there's pretty much only one thing we all want: a picture of them together. The next generation of Kardashian/Jenners.
And it seems as though we are finally going to get our fondest wish. In a Monday night interview with Entertainment Tonight, Kim said that she and her sisters are planning an epic photo shoot with the three babies. And now that Khloé is reportedly getting ready to move back to Los Angeles from Cleveland, all of the pieces of the puzzle are falling into place:
We're so excited. Me and Kylie [Jenner] and Khloe are planning one of those kids' photo shoots, just like a silly shot that we can have all the girls, 'cause Stormi and Chicago have so many pictures together. So, we can't wait for True to join the crew.
The Kardashian/Jenner family have always been fans of coralling their offspring for cousin photo shoots, and between Kourtney Kardashian's three kids with ex-partner Scott Disick (8-year-old son Mason, 5-year-old daughter Penelope, and 3-year-old son Reign) plus brother Rob's 1-year-old daughter Dream, they have plenty of cousins to pose.
As much as we've all loved seeing the different combinations of Kardashian cousins having fun together so far, let's face it: seeing a picture of the three new babies together is probably going to break the internet for several reasons. First of all, True and Stormi are first babies for both Khloé and Kylie, and neither one of the new moms were exactly open about their pregnancies. Kylie in particular really left us hanging from September 2017 to February 2018 with her total radio silence. Then there's the fact that Khloé has made a name for herself as the best aunt in the world, so to see her as a mom to a brand new baby is nothing short of amazing. But to see all of them together? Perfection.
This will be the stuff of our dreams. Or at least the stuff we talk about for a few hours and then move on with our lives, but still.
Realistically speaking, I know that a photo shoot with Stormi, Chi, and True won't exactly cure cancer. I know there are more important things to worry about in this world than seeing three famous babies together.
But you know what? Sometimes it's just nice to see three sisters enjoying being moms... together. Enjoying their babies and watching them grow. Sometimes, life gets to be just that uncomplicated.
Especially if they all wear matching tutus.