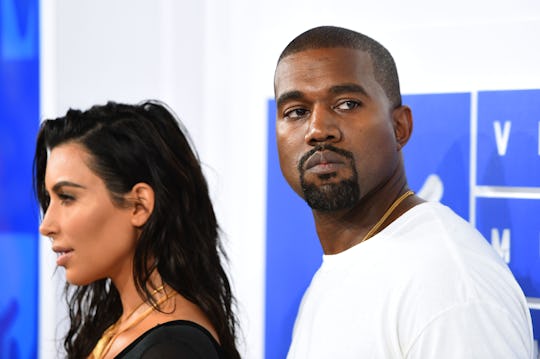 Larry Busacca/Getty Images Entertainment/Getty Images
Kim Kardashian West Reportedly Hires A Surrogate
Kim Kardashian has made no secret of her desire to have another baby with husband Kanye West, but she also hasn't hid the fact that it wouldn't exactly be easy given the complications she faced during her first two pregnancies. Now a source has claimed that Kim Kardashian West reportedly hired a surrogate for her third child, according to People, suggesting that the West clan might be soon be growing by one more. Though the reality star has yet to confirm the report, the news is not entirely surprising: Kardashian has discussed the possibility of surrogacy a number of times on Keeping Up With The Kardashians, and has even had multiple people volunteer for the role, including celeb bestie Chrissy Teigen, her sisters Kourtney and Khloe, and even her mom, Kris Jenner. But according to TMZ, Kardashian and West reportedly found their surrogate through an agency, and will be paying $45,000 total in monthly installments (in addition to a roughly $68,000 deposit) as part of the arrangement. (Kardashian's rep did not immediately return Romper's request for comment.)
It's a big step for Kardashian, who had also been considering becoming pregnant again herself, against her doctors' advice. In March, she revealed on an episode of KUWTK that she was "going to try to have one more baby," according to Us Weekly, even though her history of preeclampsia and placenta accreta would mean she could be at risk for major complications.
Ahead of her delivery with her now-18-month-old son Saint, Kardashian explained in a blog post that during her first pregnancy with her daughter, North, she developed "early-onset preeclampsia," and ended up delivering early at 34 weeks gestation. But that wasn't the only complication: shortly after the delivery, it was discovered that Kardashian had also developed placenta accreta, a condition where the placenta "grows too deeply into the uterine wall." Kardashian wrote that, as a result, her doctor "had to stick his entire arm in [her body] and detach the placenta with his hand, scraping it away from [her] uterus with his fingernails," and that she required two further surgeries after the fact.
That sounds awful in general, but the fact that Kardashian and West still longed for more children no doubt made it even more heartbreaking. Although Kardashian initially seemed open to the idea of getting pregnant again, there's no question that it would have potentially been very dangerous. That's because once a woman has already experienced placenta accreta, "the risk of recurrence ... during future deliveries is high," according to Medscape, and according to the American Congress of Obstetricians and Gynecologists, when women with placenta accreta give birth, they are also at a higher risk of requiring a hysterectomy, of hemorrhaging during delivery, and of actually dying.
In an episode of KUWTK back in April, Kardashian revealed that she'd undergone a surgical procedure in an attempt to be able to carry a third baby, according to E! News. But afterwards, she was definitively told by her doctors that getting pregnant again wouldn't be safe — a development that ultimately seemed to make her think more seriously about exploring surrogacy. She said,
After talking to Kanye, I think that I always knew that surrogacy was an option, but I didn't think it was that realistic of an option. Now, I feel like that's my reality ... I feel like surrogacy really is the only other option for me.
It couldn't have been at all easy for Kardashian to come to that decision, given that she really did seem set on trying to get pregnant again. And it's still worth noting that the report about Kardashian and West hiring a surrogate could still be a rumor. But if they have indeed decided to grow their family through surrogacy, then hopefully their experience welcoming their third child will go much more smoothly than it did the first two times around. And that, one way or another, they will still be able to have the big family they seem to be dreaming of, even if it might not have exactly gone the way they were originally expecting.