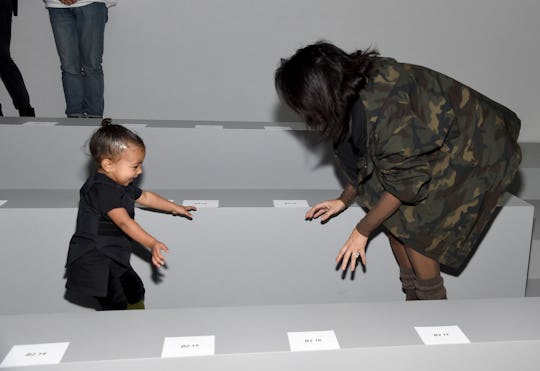 Dimitrios Kambouris/Getty Images Entertainment/Getty Images
Kim Kardashian Said The Sweetest Things About Being A Mom
In a blog post on Friday, Kim Kardashian wrote an open letter about motherhood and how everything changes once you have kids. In a good way, of course. In honor of National Son's and Daughter's Day, Kardashian-West wrote that having Saint, 20 months old, and 4-year-old North (and another baby on the way via a surrogate), enriched her life in ways she never thought possible. "Thank you to my babies for choosing me and allowing me to be your mom," the makeup mogul and reality star wrote.
Kardashian-West added:
It's not about me anymore. After North was born, I wanted to be there and make memories together that we would share forever. It really makes you realize how precious life is. They both give me a whole new perspective and inspire me to be the best version of myself.
It's a feeling that many parents can likely relate to. And, like many parents know, it's not always a "beautiful" and transcendent experience. There's spit up, never-ending responsibility, long nights, and poop. Lots and lots of poop. But Kim says that even the hard parts can be rewarding eventually. She wrote:
There can be ups and downs with kids, but no matter what, I always learn so much from them. Being a mom is the most important job I have. ... I'm so blessed to be able to be present for all of life's little moments.
Kardashian gets a lot of flak from haters about her choices as a mother, like most recently being hounded for using a surrogate for her and husband Kanye West's third child or what kind of car seat she uses.
But Kim's super open and heartfelt tribute to her kids just proves that judging another parent — whether it be a celeb or your next door neighbor — is always wrong. At the end of day, being a parent is a learning experience that ever one is just trying to figure out how to handle. And unconditional love for your children is basically universal — even in the dark times. She added in her blog post:
No matter what, I will always love [my kids] and support them in anything they choose to do in life. My family was so close growing up; Now that I'm a mom, I understand the bond my mom and dad felt with us.
In a few months, the Kardashian-West clan will add another baby to their happy family, which means all sorts of new experiences and and memories. Although her doctor recommended that she use a surrogate for her safety, Kim still had reservations about the process until she sat down with a woman who had been a surrogate on Keeping Up With The Kardashians.
"My bond with my kids is so strong," she said on the show. "I think my biggest fear if I had a surrogate is: Would I love them the same? That's the main thing I keep thinking about," Kardashian confessed. It was a pretty brave thing to admit on national television and she was reassured that, of course, the bond is always the same between a parent and a child, no matter what.
Which means that ext year on National Son's and Daughter's Day, Kardashian will have one more little one to be thankful for. Hopefully North and Saint are stoked for the new addition to their squad, too.