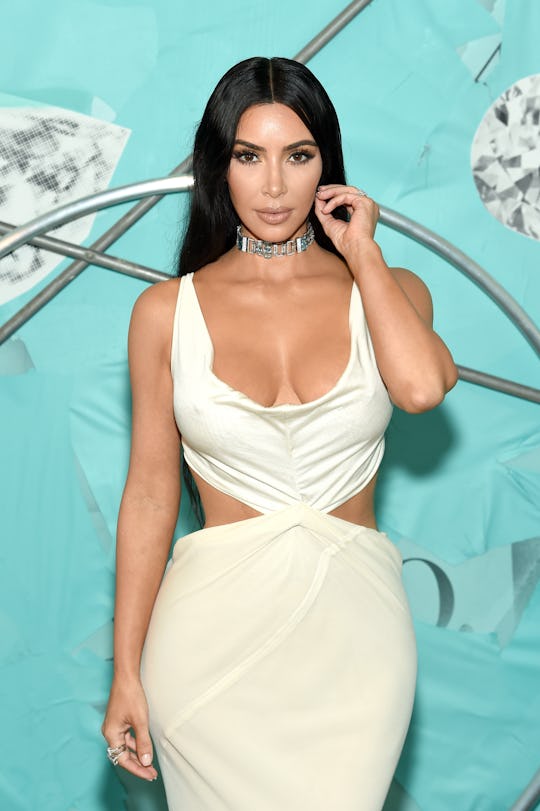 Dimitrios Kambouris/Getty Images Entertainment/Getty Images
8 Times Kim Kardashian Had The Sweetest Things To Say About Baby Chicago
Since the moment she welcomed Chicago Noel West earlier this year, Kim Kardashian West has made her love for her baby girl so clear. Even though she has kept the details of Chicago's first year on Earth pretty secret, she still makes sure to keep fans in the loop by sharing tidbits about her daughter every now and then. In fact, Kim Kardashian's quotes about Chicago West reveal how happy she is and lucky she feels to be little Chi's mom.
Kim and her husband Kanye West welcomed Chicago via a gestational carrier on Jan. 15, 2018. During her pregnancies with North, 5 and Saint, nearly 3, Kim battled a serious condition called placenta accreta, as Billboard reported. Placenta accreta is when the placenta "attaches too deeply to the uterine wall," which can lead to complications for the mother and the baby during childbirth, as explained on Brigham and Women's Hospital's website.
The couple announced the happy news of Chicago's birth the day after she was born, E! News reported at the time. "Kanye and I are happy to announce the arrival of our healthy, beautiful baby girl," Kim wrote in January, according to E! News. "We are incredibly grateful to our surrogate who made our dreams come true with the greatest gift one could give and to our wonderful doctors and nurses for their special care. North and Saint are especially thrilled to welcome their baby sister."
Since that special day, Kim has given fans a few glimpses into her adorable daughter's life. So without further ado, here are eight times Kim has opened up about baby Chicago.
1. When Kim Described The Divine Intervention Behind Chicago's ~Look~
In an appearance on Ashley Graham's debut episode of Ashley Graham's new podcast Pretty Big Deal earlier this month, Kim described how Chicago looks from her perspective. She told the host that Chicago "looks like, honestly, my twin mixed with Saint. It's like the two of us in her," People reported. "I think I was so nervous to have a surrogate and to have that connection that God was like, 'I'm going to make her look just like you,'" Kim added.
2. When She Showed Off Chicago's Protective Personality
Chicago may only be three months older than Khloé's daughter True, but Kim is already characterizing her as the alpha cousin. "I got this True," Kim captioned the above photo, jokingly speaking from Chi's perspective.
3. When She Revealed Her Sweet Nickname For Chicago
In September, Kim posted a super cute vacation shot of herself and Chicago sharing a sweet kiss in the ocean. "My Cherry Blossom Baby 🌸," Kim captioned the photo. Looks like Chicago's cherry blossom-patterned bathing suit inspired her nickname!
4. When She Revealed Which Of Her Two Kids Were The Closest
North got to run the show for a few years as an only child, so it only makes sense that her two younger siblings Saint and Chicago would become thick as thieves. "These two are inseparable #Chi #Saint," Kim shared on Instagram next to a photo of the brother-sister-pair.
5. When Kim Made It Clear That Chi Is Already As Reckless As Her Siblings
"You don't even understand how many lollipop bribes this pic cost me...but it was so worth [it]," Kim captioned a photo of herself and her three kiddos on Mother's Day this year. "Happy Mother's Day to all the moms out there. I'm the luckiest mom in the world to have these three babies in my life!"
6. When She Celebrated Chicago & Saint's "Wild" Hair
In September, Kim Instagrammed a photo of Chicago sitting on her older brother's shoulders — along with a disclaimer that Kim was holding Chi up from the back, for all the mommy-shamers out there. "Wild Hair Don't Care," Kim captioned the shot, celebrating her kids' natural hair.
7. When She Revealed Chi's *True* Bestie
Everyone knows that Chicago, Stormi, and True are the family triplets — but it seems like Chicago and True have really bonded. "Besties in Bali," Kim wrote alongside this super cute picture of the cousins on vacation together.
8. When She Called Chicago "Heavenly"
In October, Kim posted a serene photo of herself and Chi resting together to promote Kim's cosmetics company, KKW Beauty. "My heavenly baby!" Kim captioned the shot. "Showing off the new pink shadows in the Flashing Lights Collection wearing Flashy and High Key." Chicago may be too young for eyeshadow, but she is clearly her mama's daughter.