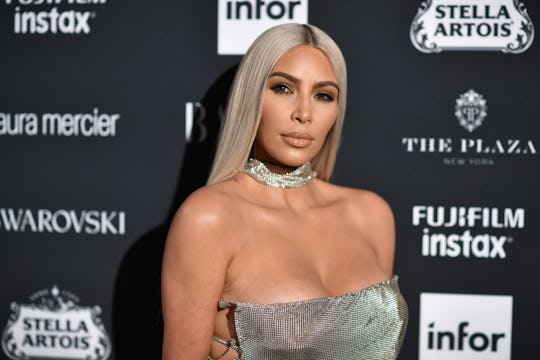 Dimitrios Kambouris/Getty Images Entertainment/Getty Images
Kim's Reaction To Kylie's Reported Pregnancy Is A Total Big Sister Move
When it comes to the Kardashian-Jenner family, they're known for a few things: big, dramatic moments and their tight sibling bond. So when news outlets announced that the youngest of the clan, Kylie, was allegedly pregnant, everyone immediately wondered what big sister Kim Kardashian's reaction to Kylie Jenner's pregnancy would be like. Despite the fact that they're all pretty quick on social media, it looks like we'll have to keep waiting — which is the ultimate big sister move. I mean, when you yourself haven't announced your pregnancy, how in the world is your sister going to make a comment? Instead, you can just tweet a picture of your makeup line's contour and hope for the best.
Romper reached out to Jenner's representatives, but has yet to hear back. According to TMZ, sources say that Jenner, 20, is pregnant with 25-year-old Travis Scott's baby and the two have reportedly been sharing the news with their friends. TMZ noted that some sources say Scott has already claimed their new baby is a girl, which means this isn't exactly a brand-new pregnancy. Beyond sources talking to TMZ, the speculation seems to be that Jenner is pregnant based off of her social media activity. Apparently she's been posting old photos of herself to Instagram and in the new photos, she's only chest up. (I mean, that's exactly how I hide my celeb baby bump, too.)
So does Kardashian even know? Let's be real, here — these sisters don't hide much from the world, much less each other. People reported that Jenner's family has known about her pregnancy for quite some time and as outspoken as the Kardashian-Jenner clan is, it's safe to say Kardashian has something to say about her tiniest sister being pregnant. In the past, Kardashian has definitely shared her feelings on her other siblings' pregnancies. A separate People article noted that Kardashian shared how excited the family was for her brother Rob and his girlfriend, Blac Chyna, when they were expecting baby Dream back in 2016, and if you've ever checked out her Instagram or seen an episode of Keeping Up with the Kardashians, you know how much Kardashian loves her nieces and nephews.
On the topic of Jenner's pregnancy, Kardashian is performing the ultimate big sister move — keeping her little sister's heart in mind. Jenner herself hasn't announced her pregnancy yet, so it's way too much to imagine that Kardashian is going to spill the beans or comment before the actual mom-to-be speaks up. But that doesn't mean the internet is going to leave Kardashian alone.
Has she talked to Kylie yet? Come on, internet. They're probably all huddled together right now, waiting for the perfect moment to speak up. I'll give Kardashian this — she doesn't use her fame to push her own family away. Even in the wake of Caitlyn Jenner and her transition, Kardashian has never been the first to spill the news via Twitter, Instagram, or Snapchat. Instead, she's stepped back and remained fairly supportive of all her family members. Earlier this summer when Kardashian's brother Rob began a public feud with his ex Blac Chyna, Kardashian kept her mouth shut — until the moment came when she had to speak up for her family.
Pregnancy is a big deal and the Kardashian-Jenner clan really focus on family. Regardless of how you feel about their fame, their fortune, or their reality show, I think everyone can acknowledge that they're a pretty tight unit. And when one sister's pregnant, that doesn't mean the other four jump to social media to share. It means talking about baby showers, sharing pregnancy battle stories, and whispering, "Hey, when can I talk about this on Twitter? I'm running out of contour photos."
Watch Romper's new video series, Romper's Doula Diaries:
Check out the entire Romper's Doula Diaries series and other videos on Facebook and the Bustle app across Apple TV, Roku, and Amazon Fire TV.