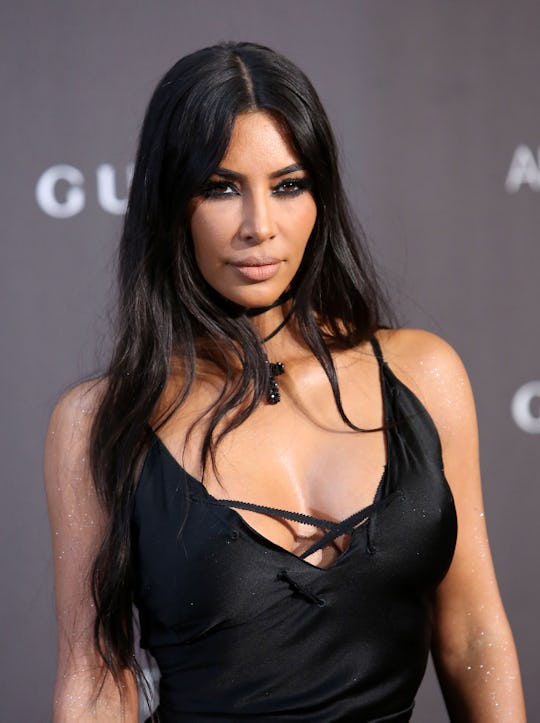 Jesse Grant/Getty Images Entertainment/Getty Images
Kim Kardashian's Wildfire Evacuation Update Reminds Us What's Important
Hundreds of thousands of Southern California residents have been evacuated as the result of several wildfires that are still ravaging the state. Just a few cities among the affected areas so far include Malibu, Calabasas, and Thousand Oaks — which happen to be home to a number of celebrities. The threat of this relentless blaze has even forced many of the Kardashians to flee their lavish estates. And Kim Kardashian's update about evacuating the Southern California wildfires reminds us what's truly important.
As Variety reported, celebrities like Lady Gaga, Melissa Etheridge, Kim Kardashian, and Rainn Wilson have recently been forced to evacuate their homes. In fact, all of Malibu — which is home to a number of celebrities and Hollywood executives — has been issued evacuation orders. Kardashian was actually on her way back from a trip on Thursday night when she saw the flames ravaging not far from her Calabasas home from her private plane, according to People. After the Keeping Up with the Kardashians reality TV star landed, she had little time to grab her belongings before fleeing to a safer area.
Kardashian took to Instagram Stories to share the latest with her followers. "Pray for Calabasas," she wrote, according to People. "Just landed back home and had 1 hour to pack up & evacuate our home. I pray everyone is safe." In another post, she showed video footage of emergency responders, writing, "Fire fighters are arriving. Thank you for all that you do for us." In yet another video shared to Kardashian's Instagram Stories, the mom of three was heading to her car and viewers could hear one of her kids in the background. She explained to her followers, "They are evacuating everyone right now from all of their homes."
On Friday, Kardashian shared another update with her fans via Twitter. "I heard the flames have hit our property at our home in Hidden Hills but now are more contained and have stopped at the moment," she tweeted. "It doesn't seem like it is getting worse right now, I just pray the winds are in our favor. God is good. I'm just praying everyone is safe."
Most recently, the KKW Beauty mogul shared an adorable photo of herself cuddling her niece, True Thompson, on Instagram. "Trying to get my mind off of this fire and snuggling with my niece," she wrote on Saturday morning. "We are all safe and that's all that matters."
Kim Kardashian and her family aren't the only ones among the Kar-Jenner clan who have evacuated because of the wildfires. That's because Khloé Kardashian and True Thompson were also forced to relocate, according to USA Today. On Friday morning, Khloé tweeted, "I am with Rob, Dream and True and I am up keeping watch! Saying prayers and thanking all of the brave firefighters who risk their lives for us."
By Friday night, however Khloé was ultimately forced from her home as well. "I just left with the clothes on my back but I think I packed Trues entire bedroom and closet into my car," she tweeted. "Obviously she's all that matters to me."
It seems Kourtney Kardashian also evacuated her Calabasas home. "I pray that everyone is kept safe and protected from the fires," Kourtney wrote via Instagram Stories, according to People. "No Calabasas tonight."
As E! Online reported, Caitlyn Jenner and her partner, Sophia Hutchins offered an update for their Instagram followers on Friday after their Malibu evacuation. "Well, we're safe at a safe house," Jenner said in the video. "Don't know if the house made it or not. It's still up in the air. We're safe and sound." Unfortunately, as TMZ revealed, Jenner's house has indeed burned down.
Hutchins added, "The dogs are out in the pool swimming and having a good time," to which Jenner replied, "I don't think we're having that good of a day."
"We're having a vodka," Hutchins admitted. "It's been a a helluva morning. We're safe. That's all that matters."
I can't imagine what Southern California residents must be going through right now. To be forced out of your home — grabbing only your most important possessions/whatever you can fit in your car — and fleeing with your family must be so scary. And then not knowing whether everything else you own has gone up in flames inside your home? So heartbreaking. At least Kim Kardashian and her family members seem to keeping positive in the midst of it all. Because they've already saved the most important parts of their lives: Their children, partners, and each other.
My thoughts continue to be with Southern California residents whose lives have been up uprooted by the ongoing wildfires.