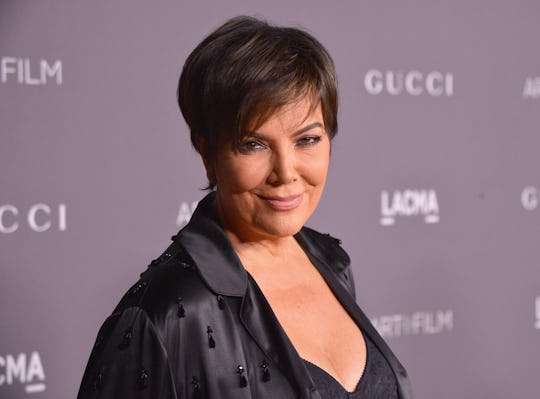 Charley Gallay/Getty Images Entertainment/Getty Images
Kris Jenner Alludes To A "Faucet Of Babies," & People Are Convinced It's Another Clue
New year, new life. At least, that seems to be the overall sentiment among the first family of American reality TV lately, with Kim Kardashian, Khloé Kardashian, and Kylie Jenner all reportedly expecting babies in early 2018. But Kim Kardashian is the only one to have confirmed she's expecting (via surrogate), while her sisters have opted to neither confirm or deny the rampant baby rumors. Which is why fans sat up and listened when family matriarch Kris Jenner alluded to a "faucet of babies" on Sunday night's episode of Keeping Up with the Kardashians. Could she be referring (or even confirming) the reported Kardashian/Jenner baby boom? And how many babies, exactly, come out of a "faucet"?
It all started when the family sat down for an early Christmas dinner in front of the ever-present E! reality cameras. Because they're an extraordinarily tight-knit bunch, they decided to share what they were grateful for. And Jenner shared her heartfelt gratefulness for her grandchildren, according to People magazine:
I used to pray that one of you guys would have a baby. And now it's like a faucet that that we turned on and it won't turn off, so the fact that I have all these grandchildren — it's been the most amazing journey to watch your kids [have kids]. It's truly the meaning of life.
Of course, it's not as though the one confirmed and two rumored babies on the way will be Jenner's first grandchildren. Kim, who has shared that she and husband Kanye West will be welcoming a baby girl, is already mom to 4-year-old North and Saint, who is almost 2. Jenner's oldest daughter, Kourtney Kardashian, has three kids of her own, and Jenner's son, Rob, has a 1-year-old daughter, Dream. So, regardless of whether Kylie and Khloé really are expecting their first babies, the "faucet" seems to be running pretty strong.
But if they are both expecting, and Jenner knew it when the most recent episode of Keeping Up with the Kardashians was filmed, then this is the ultimate tease to fans who have been trying to get to the bottom of this for months. And there have been plenty of teases. Kylie, specifically, has been actively dropping tantalizing hints, such as when one of the turkey-themed treats at the Thanksgiving celebration she hosted appeared to be sporting a bump.
Still, there's some evidence that Jenner was not referring to her daughters' rumored pregnancies when she shared how thankful she is for the "faucet of babies." First, Jezebel's Bobby Finger pointed out that there's a good chance that the episode was actually filmed sometime over the summer, even though it has a holidays theme. That, of course, was before rumors surfaced that Kylie and Khloé were expecting in late September, although it is possible (actually, it's probable) that the family knew what was up — if something was indeed up — before their fans did.
Also, it's protocol in the Kardashian/Jenner family that members will not speak for other members when addressing rumors. At least, that's what Kim Kardashian told Ellen DeGeneres when she was a guest on her talk show earlier this month. So, if Jenner was dropping a pointed hint, she surely did so with both Kylie and Khloé's permission.
Now, it seems as though fans are going to have to keep enduring the hints until Kylie and Khloé are ready to let them in on their secrets. (Sources say Kylie reportedly wants to keep a low profile until her rumored baby is born, so fans may be waiting a few more months.) In any case, congrats to Kris for being the ultimate grandma — fans can't wait to see how many more grandchildren she has next year.
Check out Romper's new video series, Romper's Doula Diaries:
Watch full episodes of Romper's Doula Diaries on Facebook Watch.