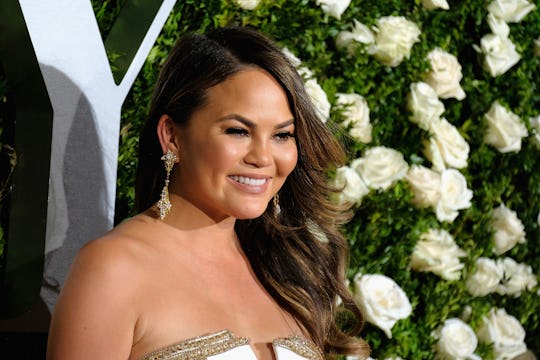 Jemal Countess/Getty Images Entertainment/Getty Images
Chrissy Teigen Has Dropped Infinite Wisdom About IVF & Fertility Struggles
Having a hard time getting pregnant can be a heartbreaking and isolating experience for any women, who often need to strike a balance between being happy for their pregnant friends and family members, and not sinking into the depths of despair. Model Chrissy Teigen, for example, knows the pain of feeling as though her dream of having a big family was just out of reach all too well. As anyone who's ever taken even one look at her prolific Twitter feed or read an interview with her knows, Teigen is now the mom of an 18-month-old daughter — and that getting there was a long and hard process. And these Chrissy Teigen quotes about IVF and fertility struggles will definitely make you feel less alone.
Well before Teigen and her husband, John Legend, welcomed Luna Simone in April 2016, the cookbook author was open with fans about her struggles to get pregnant and the couple's subsequent decision to use IVF to build their family. Teigen regularly and humorously takes down internet trolls who challenge her family planning choices, and, in doing so, demystifies the IVF process and educates the public about what it's like to not be able to get pregnant the "old-fashioned" way.
Sure, now Teigen's a cool mom getting her daughter to do the cutest chores imaginable while wearing the cutest apron out there. But she's also totally there for fans who may not be quite there yet, but want to be.
So, let's revisit some of the most insightful, poignant, and honest Chrissy Teigen quotes about IVF and fertility struggles.
Asking For A Little Space, Please
Back in September 2015, before anyone in the public knew that Luna would be born just months later, Teigen alluded to her fertility struggles in a conversation with Tyra Banks on FABLife, according to Us Weekly:
I can't imagine being that nosy, like, "When are the kids coming?" because who knows what somebody's going through, who knows if somebody's struggling? I would say, honestly, [that] John and I were having trouble. We would have had kids five, six years ago if it had happened, but my gosh, it's been a process.
In the same episode, Teigen also shared that she had been visiting fertility doctors. But she made it clear that bringing up the topic of kids to a woman could be painful for her if she's trying to get pregnant, so nosy family members and friends should zip it.
On Going Through IVF Again
One month later, though, Teigen revealed on another episode of FABLife that she was, indeed, pregnant, and wasted no time informing her Twitter followers that she had IVF to thank. And soon after Luna was born, she told People magazine that she wanted more kids and would go about having them in just the same way:
The number of embryos we have left is not matching the number of people I want at my dinner table, so I'll have to do it again. I wish I had frozen my eggs earlier. We have a few more on ice. Who knows what will work? ... It would have been better if I had made a ton of embryos when I was already doing the shots. Because now I have to do the shot thing again. I think about that.
On Choosing A Girl Embryo
It may have been one of her more controversial admissions, but Teigen was totally upfront about opting to have a girl first, she told People magazine:
I've made this decision, Not only am I having a girl, but I picked the girl from her little embryo. I picked her and was like, "Let's put in the girl."
That's a perk that not too many moms get to have, so kudos to her for owning it. After all, she and Legend worked really hard to get to the point where they where even implanting an embryo in the first place.
"We've Got Some Embryos On Hold"
If fact, Teigen plans to have much more than just one baby. The Lip Sync Battle commentator actually plans to "be pregnant all through [her] 30s," she told SELF magazine:
I've always pictured everyone everyone around the table for the holidays and together once a week. It will be heartbreaking if it doesn't end up happening, but hopefully it will. We've got some embryos on hold.
Clapping Back At The Haters
Recently, Teigen has confirmed that she and Legend are ready to have another child. And when the couple appeared at the Screen Actor's Guild awards in January, and someone asked Teigen whether she would try to have a baby "naturally" or whether she was "avoiding 'the act.'"
Here's Teigen's perfect response, as reported by The Independent:
Thanks for asking, you complete witch. I tried for about nine years. Anything else, let me know!
Mic drop, Chrissy. Mic drop.
Watch Romper's new video series, Romper's Doula Diaries:
Check out the entire Romper's Doula Diaries series and other videos on Facebook and the Bustle app across Apple TV, Roku, and Amazon Fire TV.