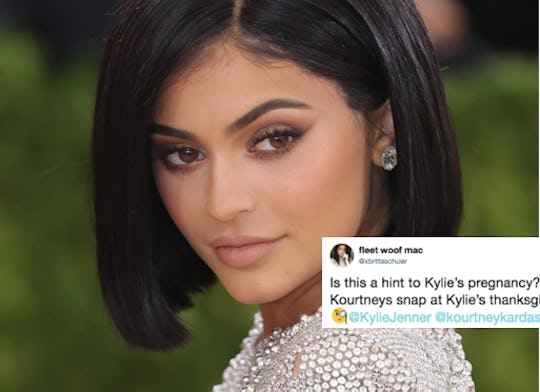 Neilson Barnard/Getty Images Entertainment/Getty Images
Fans Are *Certain* Kylie Jenner Hinted At Her Rumored Pregnancy With These Thanksgiving Treats
The Kardashians don't do anything by accident, which is precisely why the internet thinks Kylie Jenner hinted at her rumored pregnancy through her Thanksgiving treats that she and her sisters showed off on Snapchat. One savvy BuzzFeed reader commented on a story about the "extra" Thanksgiving dinner that Kylie hosted at her house this week. After zooming in on the image, fans noticed that there's one, single turkey-shaped treat that appears to be pregnant.
It's so ridiculous, yet, knowing how the Kardashians love to troll their followers, it could actually be a real hint. Ever since news broke that Kylie and her sister Khloé Kardashian were allegedly pregnant back in September, people have been scrutinizing every single appearance and social media post for clues about whether they're actually having a kid of not. The family won't confirm or deny the rumors, so it's really all we have until they make a formal announcement.
Things have gotten so out of hand, that people actually think this chocolate turkey is pregnant, since there's only one of them on the whole platter. Sure, it could have been a fluke from their caterer, but the Kardashians don't really do coincidence. Is Kris Jenner really communicating to us via cookies now? I wouldn't put it past her.
Do you see it? If you think about it, there could be some method to her madness. According to People, Kylie had her momager, along with Kendall, Kim, and Kourtney, over for dinner. Rob Kardashian was also allegedly there for dinner, too. It's unclear if Kanye West or Scott Disick came along or which little kids were there, but it's possible they had enough turkey treats for everyone at the table and Kylie got the "pregnant one."
As you might remember, Kim is using a surrogate so she wouldn't be pregnant and Khloé spent the holiday in Cleveland with boyfriend Tristan Thompson, so she didn't warrant a pregnant cookie either. Then again, it could just be that if you order a dozen turkey cookies, one of them has a full body and the others don't. Or they got the one bigger one in a nod to the leader of their pack, Kris. Or literally any other reason than signifying Kylie's pregnant. But what's the fun in that?
The Kardashian and Jenner sisters do like messing with our minds. They live pretty much all of their lives in the public eye, so on some level, it makes total sense that they'd want to keep their alleged pregnancies private and have these moments to themselves. Once they confirm they news, it's no longer something that's just for them and they'll have to share every tiny little with the public.
Even without the news being confirmed, the media and fans are all over their every single move. It has to be kind of exhausting , especially if they are pregnant. Would you like someone following you around with cameras, zoomed on your stomach for nine months? And then have to read all the mean comments people leave about your stomach?
Trolling us with "clues" is obviously fun for the family as it shows just how obsessed with really are with these women. So far, Kylie has posted pictures that some fans think give away the sex of her baby — like wearing a blue shirt and choosing a blue cell phone case. She and Khloé also did a video together testing out some of her lip colors and they joked about "having so many babies" in the family.
While the turkey treat might not actually mean anything at all, it's entirely possible that someone in the family arranged them in a way knowing that someone, somewhere out on the internet would interpret it as a symbol for the state of Kylie's uterus. Crazier things have happened.
Check out Romper's new video series, Romper's Doula Diaries:
Watch full episodes of Romper's Doula Diaries on Facebook Watch.