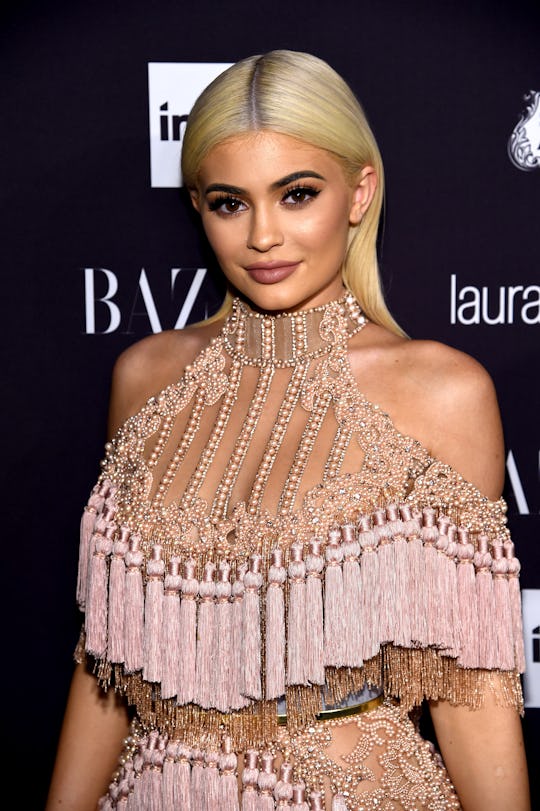 Jamie McCarthy/Getty Images Entertainment/Getty Images
Kylie Jenner Said She's Thankful For Her "Babies," & The Internet Is Absolutely Losing It
Kylie Jenner has been lowkey breaking the internet every time she posts something new to her social media accounts, as fans pick apart each and every emoji in an attempt to confirm her pregnancy rumors. For Thanksgiving, Kylie Jenner said she's thankful for her "little babies" in a post on her website and the internet has obviously lost it, assuming it's a nod to a possible baby.
However, it seems to be yet another example of Kylie totally trolling her fans over this alleged baby news. Because although she said that she was "thankful her her babies," she finished the sentence with, "They may drive me crazy sometimes, but Normie, Bambi, Harlie and Rosie…I love you!!!" Just in case you aren't a dedicated Kylie fan, those are all the names of her dogs. Yes, her dogs are also her babies, so she is not having quadruplets.
Although there were whispers that Kylie, 20 years old, and her older sister Khloé, might confirm their respective pregnancy rumors over the holiday weekend, that doesn't seem to be happening. But that doesn't mean fans aren't doing deep dives into their Thanksgiving posts to see if they can crack some (likely nonexistent) code about the reportedly expanding Kardashian and Jenner families.
Here Are Kylie's "Babies"
They're Super Cute
People Really Can't Have Fun Till They Confirm, Though
Although news broke that Kylie was pregnant by Travis Scott, her boyfriend of one year, back in September, her family still hasn't confirmed the news at all. According to some unnamed sources close the family, Kylie is feeling really private and self conscious about her alleged pregnancy. They told People, "Her body is changing and she's very self-conscious about it. She's always been insecure that she's not as curvy or pretty as her sisters."
The source added that just her and Scott's close friends are in-the-know about her family planning. They said:
Kylie is only trusting her closest friends and her sisters right now. She wants to reveal things on her own terms but she's of course having fun teasing everyone. She knows all the attention is on her and her baby bump, but she won't share until she wants to.
That time was not this weekend apparently. Kylie and her family did share a ton of pictures about their Thanksgiving, though and it looked super cozy and fun. According to social media, Kylie had her momager, and sisters Kendall, Kim, and Kourtney, along with Rob Kardashian over to her Calabasas house for dinner.
According to People, Khloé had her own dinner with boyfriend Tristan Thompson in Cleveland, Ohio, where she spends a ton of her time, now.
In her Thanksgiving message on her website and app, Kylie also gave thanks for her family and the ten long years that Keeping Up With The Kardashians has been on television. She also gave thanks for her booming business. Kylie wrote:
Two years after my first Lip Kit launch, my dream just keeps getting bigger and bigger. I dropped so many new products this year — from my 20th Birthday Collection and Vacation Collection to brand new Velvet Lip Kits. And now, I'm getting ready to open pop-ups inside Topshops all over the country. I can't wait to show you guys what I have planned for 2018!
Kylie obviously has a ton of things to be thankful for this year, not the least of which are her dedicated fans who remain on baby bump watch. When Jenner is ready to confirm the pregnancy news, she'll likely skip all the hints and roundabout "clues" and just come straight out with it. Be patient, everyone. Kylie and her sisters aren't exactly known for keeping secrets for long.
Check out Romper's new video series, Romper's Doula Diaries:
Watch full episodes of Romper's Doula Diaries on Facebook Watch.