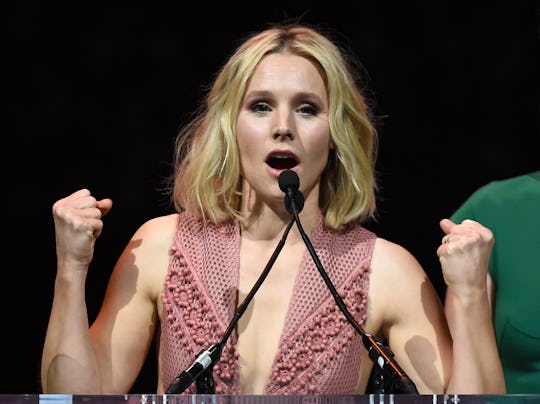 Ethan Miller/Getty Images Entertainment/Getty Images
Kristen Bell Says She's "Over Staying Silent" About Her Depression, & It's A Big Statement
Kristen Bell is my new spirit animal. Not only is the Frozen star hilarious and talented, she also manages to be so totally real and accessible to regular folk. I've always figured she and I would go for fun nature hikes in real life if we had the chance, where we would both put in about a 70 percent effort and go for wine after or something. What would we talk about? Our kids, our partners, the transformative power of a well made sundress... and depression. Because Kristen Bell is "so over staying silent" about her depression. And to this I say hells yeah.
Bell recently wrote a beautiful piece for Motto (an advice website from the editors of TIME) all about her ongoing battle with depression. It turns out Bell has been struggling with depression since she was 18 years old and a student at New York University. Considering Bell is well known for her bubbly, sunshine-y personality and infectious smile, some fans might be surprised at her revelation. But Bell sort of doesn't care what people think about her depression any more. And what's more, she is generous enough to share her story to help end the stigma surrounding mental illness.
Bell is married to Dax Shepard (Parenthood) and the mother of two lovely little ones with the excellent handles, Delta Bell and Lincoln. She is successful and beautiful and loved by fans all around the world. So how has depression factored into what most people would feel is a pretty beautiful life? Bell wrote in her piece for Motto that she couldn't initially understand why she felt suddenly felt different back in university.
I felt plagued with a negative attitude and a sense that I was permanently in the shade. I'm normally such a bubbly, positive person, and all of a sudden I stopped feeling like myself.
Luckily for Bell, her mother recognized something was amiss and stepped in to help her.
When I was 18, my mom sat me down and said, 'If there ever comes a time where you feel like a dark cloud is following you, you can get help. You can talk to me, talk to a therapist, talk to doctor. I want you to know that there are options.'
For 15 years of her career, Bell has kept her internal struggle a secret. But she is quite simply over it. Why? Because she wants to help people who might not have the same sort of support system she has enjoyed. Because she's tired of the stigma, of the idea that having depression makes you a weak person. And mostly because she is "Team Human."
We're all on team human here, and let's be honest — it's not an easy team to be on. It's stressful and taxing and worrisome, but it's also fulfilling and beautiful and bright. In order for all of us to experience the full breadth of team human, we have to communicate. Talking about how you're feeling is the first step to helping yourself. Depression is a problem that actually has so many solutions. Let's work together to find those solutions for each other and cast some light on a dark situation.
Here's hoping that Bell's message of acceptance, of honesty and moral courage, helps those who need it most. Because staying silent is so over.