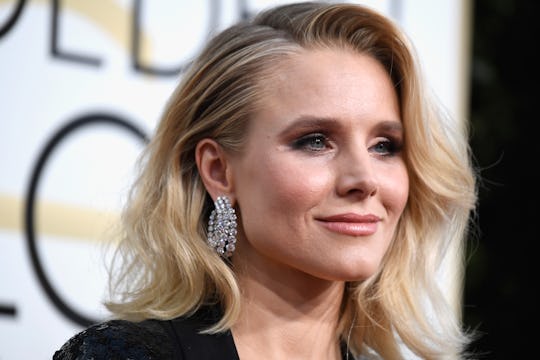 Frazer Harrison/Getty Images Entertainment/Getty Images
Kristen Bell's Airplane Diaper Hack Is Genius
Even celebrities know that traveling with kids requires a ton of planning. But even the best laid plans for a perfect trip aren't immune to occasional hiccups. Handling those unexpected moments can be tricky, especially 30,000 feet in the air. But as one celebrity mom knows, quick thinking and a little innovation can get you out of just about any pickle. Kristen Bell's airplane diaper hack is something all moms can relate to.
Last week, the Frozen star shared a sweet photo commemorating the days before she and her husband, Dax Shepard, welcomed their first child. Bell and Shepard have been together since 2007, but waited until 2013 to get married — the year same-sex marriage became legal in the state of California, according to PEOPLE. The couple have two children together: daughters Lincoln, 4 and Delta, 2. While Bell posts about her kids on social media from time to time, and often talks about parenting in interviews, she and Shepard are both supporters of the No Kids policy movement which aims to prevent paparazzi from posting photos of celebrity's kids. Therefore, when Bell does post about her children she doesn't show their faces and has kept their life at home private.
"I'm telling you right now, we don't want our daughter's face anywhere ever until she decides because I have the utmost respect for her," Bell said of daughter Lincoln on Access Hollywood in 2014. The same goes for her younger daughter Delta, who sort of made an appearance in Bell's in-flight diaper hack post.
Bell posted the photo Wednesday night with the caption:
Quick fix for a broken pull up when you're on an airplane? Hair tie. BOOM. Next question. #mom
She's not the only parent to come up with clever hacks out of necessity while traveling, especially diaper changing hacks. There are tons of YouTubers and Pinterest boards totally devoted to the art of diaper hacking and no surprise: on average, a baby will use 2,700 diapers in their first year, according to Investopedia. No doubt at least a few of those diaper changes will need to happen at the least inopportune time and a parent will have to do a little finagling.
Bell's clever hack is just one of many that parent can have in their arsenal when traveling with tots, and the internet has suggestions in abundance. Everything from storing pacifiers in empty souffle cups (which are often used for sauces when you order take out) to vacuum sealing extra diapers to make them easier to pack or carry in your bag.