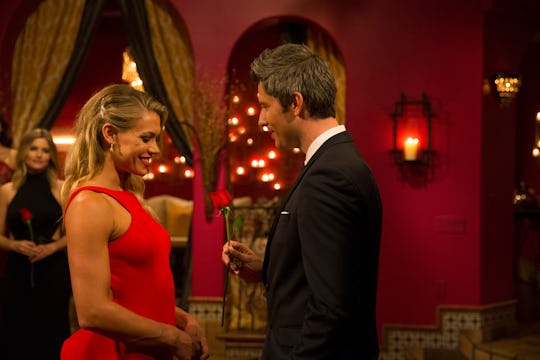 Paul Hebert/ABC
Krystal's Story About Her Brother Will Bring 'Bachelor' Fans To Tears
Arie kicked off his season of The Bachelor with two one-on-one dates, and the second one was with Krystal, the San Diego fitness coach. She memorably took Arie through a guided breathing exercise when they first met and her centeredness must have caught his attention, because for their date, he flew her to his hometown of Scottsdale, Arizona to meet his family. Of course, this set up the perfect opportunity for her to open up about her less-than-picture-perfect family life, and Krystal's story about her brother on The Bachelor had Twitter rallying by her side.
Krystal had a little bit of the zen hippie chick edit going into this season, but on her one-on-one date with Arie, we learned a little bit more about her backstory. She struggled to open up about it at first, especially after seeing how close-knit Arie's family was. Understandably, Krystal felt afraid that her broken family unit and challenging upbringing would scare him off. But she powered through and confided in him that her father abandoned her family when she was really young, her mother was emotionally unavailable and not the best provider, and then as an adult, she learned that her brother struggled with homelessness.
Krystal finally learned that her brother had been living on the streets of Venice for nine months when she got a call that he had been hospitalized after an attack. She painfully recalls what it was like to see him in the hospital, clearly run down and in poor health after being homeless for so long. She told Arie that she offered to help him, but her brother simply asked for a bus ticket out of town, and her heart broke as she watched him drive away. We saw how this informs Krystal's life now in her intro package. For example, she actively makes a point of visiting hubs for homeless people in her area to distribute food, because she doesn't know where her brother is, but hopes that someone is doing the same for him. It's a heartbreaking story, and the toll it takes on Krystal to have such fractured relationships with her family is clear.
Luckily, Arie was a perfectly supportive gentleman about it. When Krystal faltered in opening up, he reassured her that she could share as much or as little as she wanted. And after she told her story, he shared that even though he had a loving family, he had plenty of friends with more difficult upbringings and he didn't believe that it reflected poorly on Krystal. He also told her that he can see what a loving person she is, in spite of her trauma.
Unfortunately, Krystal fell a little too hard after that and set up some personal boundaries that wound up severely alienating her from the other women. For instance, she made the choice to keep the details of her date and conversations with Arie private, which obviously sowed some discord in the house. When a bunch of women competitively date one man, the easiest way to ease anxiety is to be open and honest about each interaction so that everyone can stay informed of how the other relationships are progressing. By keeping her connection totally under wraps, Krystal created an environment for suspicion and insecurity to flourish.
Combine this with the fact that she's really bad at reading a room and the episode ended in a blowout fight between Krystal and Bibiana. Hopefully, Krystal learns to soften a bit toward her fellow contestants and take their feelings into consideration in the future.
Check out Romper's new video series, Romper's Doula Diaries:
Watch full episodes of Romper's Doula Diaries on Facebook Watch.