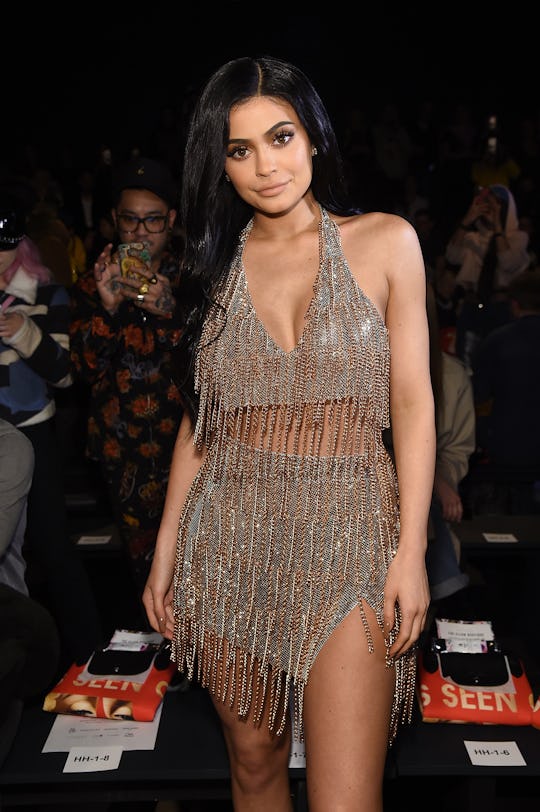 Jamie McCarthy/Getty Images Entertainment/Getty Images
These "Clues" From Kylie Jenner's Instagram Suggest She Isn't Actually Pregnant
Since the family has not confirmed the rumors at all, all fans have left to do is to scour through Kylie Jenner's Instagram for clues that she's not pregnant or for "proof" that she really is going to have a baby with boyfriend Travis Scott. It's really exhausting work! It doesn't make it any easier that both Khloé Kardashian and Kylie appear to be enjoying their fans' interest in the goings on of their uteruses. The Kardashian and Jenner sisters are known for playing pranks on each other on Keeping Up With The Kardashians and, honestly, it's starting to feel like they're messing with us at this point.
Before you get into investigating Kylie's Instagram with the sleuthing skills of Kim Kardashian herself, let's go over what we know. According to multiple anonymous sources, Kylie is allegedly pregnant with a baby girl and is due sometime in February, which means that she would have found out in the early summer, when KUWTK was still filming this season.
Some fans believe that they'll reveal the rumored pregnancies on the show before the holiday season, since it goes on hiatus right when her alleged baby is due, and momager Kris Jenner would never sleep on getting her girls some ratings. Gotta love her.
The KarJenner clan is great at managing their images, so it's hard to tell what Instagram photos are staged or old, but there are a few that stand out as clear signs that she's not pregnant. Just beware: Most of these revolve around the size of her body, and although a "baby bump" shouldn't have to be "proof" she's pregnant (some women barely show at all), fans seem to be waiting for the sight of one and have been investigating each post thoroughly. So, let's get started.
This One Can Go Either Way
This is one of the more recent Instagram posts, in which Jenner says that she's shooting new and exclusive for her app. Although she has an arm over her tummy, you can also see that most of her just doesn't look like she's pregnant at all.
Fans thought this one, at least, proved that the pregnancy is nothing but a rumor.
Her Halloween Posts
Pregnancy should never hold a woman back from having fun, but this picture in her angel Halloween costume with her bestie has many fans thinking that she's not pregnant at all, since she would have been five or six months along at this point and just because she's not showing belly doesn't necessarily mean she's hiding her bump.
Fans also assumed that since she was at a party, she'd be consuming some adult beverages, meaning she's probably not pregnant. Of course, many people do go to parties and don't drink alcohol.
In addition to those assumptions, she also took down other pictures from the night that showed more of her, which leads me to believe that she didn't want to ruin the mystery and put a stop to the speculation. Less is more when it comes to pregnancy rumors, right?
This Is Not A Gender Reveal
Tons of people are assuming that this pink tree is a gender reveal, but I beg to disagree. As a KUWTK afficianado I know how much Kylie loves going all out with interior design, much like her sister Kourtney.
Although Kylie is often ahead of the crowd when it comes to trends, there's something classic about millennial pink, don't you think? I bet she just had Jeff Andrews put together a really great tree just like she does with all of her other home decorating projects.
There's No Way She's Pregnant, Right?
Again, I know that pregnancy isn't all about the bump, but assuming that this picture was taken around the time she posted it in late August, fans certainly don't seem to think she's definitely not expecting a baby in February.
Not Buying It
SAME. Though this one has fans a little confused in the comments, since this photo was posted days after the pregnancy reports hit headlines in September.
She Bares It All
Also posting this photo days after rumors started swirling, she had to know that people would go wild analyzing this picture since she bares her tummy.
And because this was posted just days after the rumors broke the internet and a good four months into her alleged pregnancy, this post in particular has led some fans to believe that she is most definitely not pregnant.
Of course, inquiring minds will know sooner or later whether she's pregnant or not. But if I had to put money on it at this point, I'm team "This Is All A Prank." Only time will tell.
Check out Romper's new video series, Romper's Doula Diaries:
Watch full episodes of Romper's Doula Diaries on Facebook Watch.