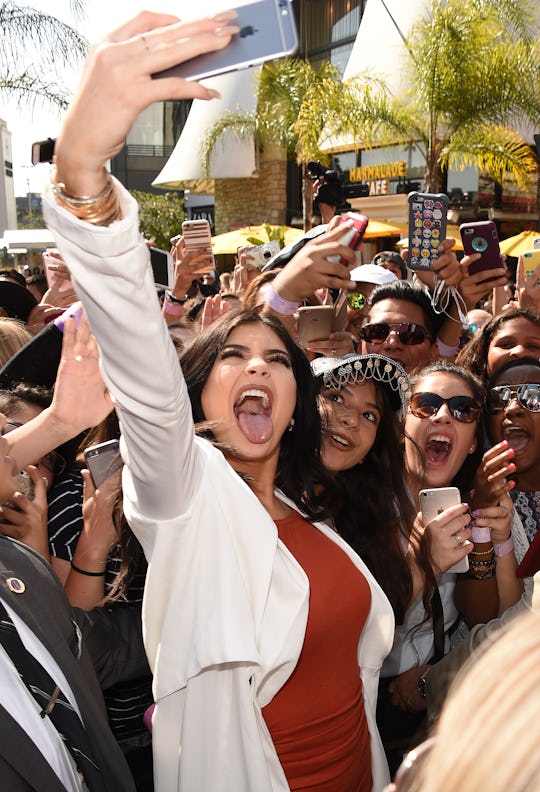 Jason Merritt/Getty Images Entertainment/Getty Images
Kylie Jenner Is Notorious For Having Super Epic Birthday Parties
Kylie Jenner's 21st birthday is Friday, Aug. 10, and you just know that girl has a fabulous celebration in store. But until the KarJenner family floods Instagram and Snapchat with highly-anticipated photos of the makeup mogul's big day, now seems like a good time to reminisce over Kylie Jenner's birthday parties over the years, which have traditionally been pretty epic.
Last year, a few days before turning 20, Jenner told E! that she didn't have anything too elaborate in mind for her birthday. "Usually I go on a trip every year, and I like to do something special and big," she told E! in an interview shared on YouTube. "This year I'm just feeling family vibes, I just want to be around my family and my friends, and just do something cute." She also said she didn't care about getting materialistic birthday presents, and instead, she was opting to do "special charity things" on her birthday.
It's no surprise that Jenner was feeling a chill birthday celebration last year, considering she was already secretly pregnant with baby Stormi at that point. (Stormi was born in February 2018, meaning Jenner likely conceived her between April and May 2017. TMZ first shared the rumor that Jenner was pregnant in September 2017.)
However, Jenner's wishes for a chill birthday did not come true. Her family threw her a lavish surprise party, which she found herself attending after watching her boyfriend Travis Scott perform at a concert with Kendrick Lamar, People reported at the time. Snapchats shared of the bash revealed that there was an ice sculpture of Jenner's nude body, balloons spelling out "Kylie," and a cake with a goofy picture of Jenner on it, as reported by People.
Two years ago, when Jenner turned 19, she celebrated by going on a fancy getaway with her best friends. She went to Turks and Caicos with a group of mostly-model friends, including her sister Kendall Jenner, Hailey Baldwin, Bella Hadid, Anastasia Karanikolaou, Justine Skye, and her then-boyfriend Tyga, Us Weekly reported.
When Jenner turned 18, she started the day off by giving back — she dropped off gifts at Children's Hospital Los Angeles, according to a post on her Instagram.
That night, she partied with "MY GIRLS," according to the caption of her Instagram photo. The picture, taken at the restaurant The Nice Guy in West Hollywood, the Mirror noted, reveals that Kendall and Caitlyn Jenner were at the dinner. Afterwards, the group went to the nightclub Bootsy Bellows on Sunset Boulevard, the Mirror reported.
According to a video posted by TMZ, Jenner celebrated her 17th birthday with a huge party at Tyga's house. Guests included Chris Brown, The Game, and Justin Bieber, the last of whom reportedly sang happy birthday to Jenner. "Thank u everyone & T for the cake & JB for singing happy bday to me," Jenner tweeted the day after the party, according to Us Weekly. "I love u guys."
Additionally, Jenner had a second, more intimate 17th birthday party that year with her family at Nobu Malibu, Us Weekly reported.
Jenner's Sweet 16 was held at the AT&T Center in Los Angeles, E! News reported at the time. She asked for no gifts — instead, she requested unwrapped toys for Children's Hospital Los Angeles — but Kim Kardashian and Kanye gave her a present I'm sure she had no intention of returning. Since the couple could not make Jenner's Sweet 16, they surprised her by hiring a special musical guest for the affair: Drake. Yasss.
And since Jenner is turning the big 2-1 this weekend, she's already started prepping. Thursday, she Instagrammed a few #TBT photos of herself as a kid, some seemingly from a birthday party. And last week, she released images from a gorgeous 21st birthday-themed photo shoot, and she dropped a new Kylie Cosmetics collection called the 21 Collection earlier this week in honor of her birthday. I can't wait to see what stops she pulls out this weekend.