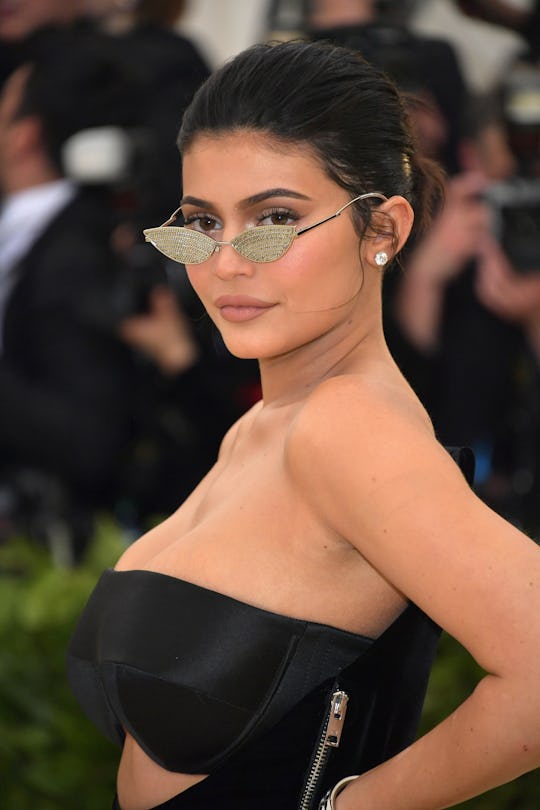 Neilson Barnard/Getty Images Entertainment/Getty Images
Kylie Jenner's Birthday #TBT's Are Pretty Darn Cute
This Friday marks Kylie Jenner's 21st birthday. Unsurprisingly, the makeup mogul started the celebrations early in several ways. In addition to starring in a gorgeous photo shoot and dropping a new Kylie Cosmetics collection, Kylie Jenner shared a few throwback photos, just days before her 21st birthday. The shots, one of which features a sweet moment between her and Caitlyn Jenner, are so precious.
On Wednesday, Jenner posted four #TBT photos to her Instagram story. The first shot is a close up of Jenner as a child, showing off her freckles, smiling and wearing adorable high pigtails. Young Kylie even matched her hair ties to the design on her shirt — what a fashionista in the making.
The second image in her story shows two side-by-side photos of Kylie. On the left is a photo of Jenner as a child, rocking her freckles, blunt bangs, and some fabulous ribbons on her pigtails that are once again coordinated with her pink ensemble. On the right is a much more current picture of Jenner, also wearing blunt bangs.
The third and fourth photos seem to be pretty on-brand for Jenner's upcoming birthday. Both shots were taken at a bowling alley, and Jenner is wearing black overalls over a leopard-print long-sleeved shirt, bowling shoes, a glow necklace, and her hair is half-up. Is it just me, or is that outfit still totally in style? And in the final bowling shot, Caitlyn Jenner is helping little Kylie with her bowling form. Too cute!
Jenner began celebrating her 21st birthday last week, when she revealed the newest Kylie Cosmetics collection, the 21 Collection. Naturally, Jenner debuted the products on Instagram. In her story last Tuesday, she talked about why she was dropping the collection in honor of her birthday. She said:
I can't believe I'm about to be 21. I also can't wait to share this collection with you guys. It's definitely the most personal collection that I've done, so I hope you guys love it. My birthday collections are super special to me because the first collection I ever did was for my 19th birthday, so this is going to be my third annual birthday collection.
Not only did the Keeping Up with the Kardashians star release the makeup collection for her birthday, but she also posed for a pretty epic photo shoot for the occasion. In one image from the shoot that Jenner shared on Instagram, she wore a fluffy pink dress, a black headpiece reading "secret location," and a sheer black bra with matching thigh high stockings. The images from the shoot are printed on the packaging for her new makeup collection.
On Twitter, Jenner shared some behind-the-scenes scoop regarding the birthday-themed photo shoot. "Fun fact: that was my FIRST photo shoot I did after Stormi for my bday collection!" she tweeted. "I had to turn those photos in ASAP to make timing! I thought of the idea while I was preggers. 💕✨"
It totally makes sense that Jenner is celebrating her birthday in such a big way — with throwback photos, with her birthday-themed photo shoot, and with the launch of a new Kylie Cosmetics collection — considering the fact that she is already planning Stormi's 1st birthday, which isn't until February. A few weeks ago, she posted a Snapchat story in which she shared her thoughts on her baby girl's upcoming milestone. "Stormi is going to be 5 months this weekend, which really is tripping me out. That means we're halfway to a year… almost," Jenner said in the Snapchat story. "And I'm already thinking about her first birthday and how it's going to be epic, OK? I was gonna do super magical unicorn theme, but North and Penelope beat me to it, so I have to think of something else."
Kylie, if you're taking suggestions, perhaps Stormi would like a Kylie Cosmetics-themed birthday party coinciding with the release of a new Stormi-inspired makeup collection?