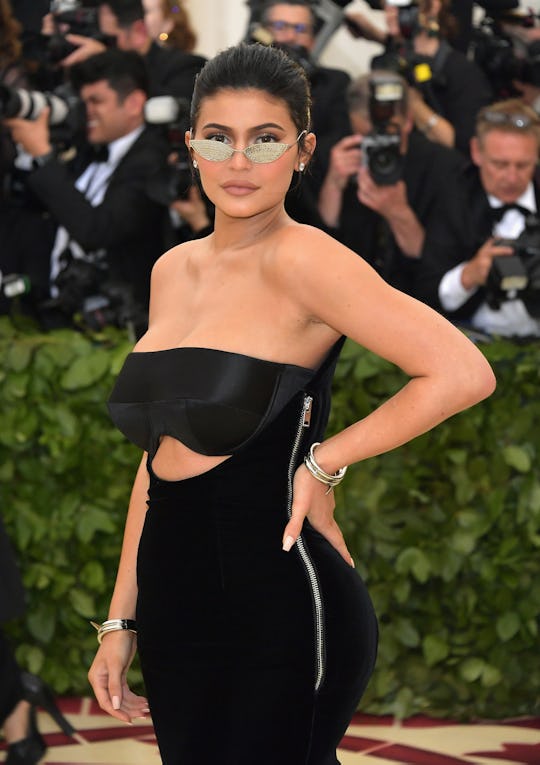 Neilson Barnard/Getty Images Entertainment/Getty Images
Kylie Jenner Is Planning Stormi's 1st Birthday Already, So It Will Probably Be Epic
It's hard to believe that just five months ago, Kylie Jenner still had yet to publicly confirm her pregnancy. But ever since Stormi got here, Jenner has been updating fans with her baby girl's milestones. And this week, she revealed that she is already looking ahead to a pretty big one. Kylie Jenner is thinking about Stormi's first birthday party seven months in advance — and it seems like she already has some competition.
In a Snapchat story on Wednesday, Jenner shared a few musings regarding her first birthday plans for Stormi, who was born on Feb. 1, 2018. "Stormi is going to be 5 months this weekend, which really is tripping me out. That means we're halfway to a year… almost," Jenner told her Snapchat followers. "And I'm already thinking about her first birthday and how it's going to be epic, OK?"
"I was gonna do super magical unicorn theme, but North and Penelope beat me to it, so I have to think of something else," she said. Earlier this month, Kim Kardashian's daughter North, and Kourtney Kardashian's daughter Penelope had a unicorn-themed joint birthday party, complete with unicorn desserts, unicorn horn headbands, and even "real" unicorns (aka ponies wearing unicorn horns and glitter...shhh...).
OK, so a unicorn theme is out. So is a Moana theme or an under the sea theme (those are what Penelope and North did the prior two years). Luckily, a few fans tweeted their theme suggestions at Jenner, with a butterfly theme coming out on top. (Butterflies are a motif in Jenner and Travis Scott's relationship.)
It's no surprise that Jenner is already thinking so far in advance, considering how epic the KarJenner family's parties often are. For example, Khloé Kardashian's baby shower was as over the top as they come. The March shindig was decked out with pink flowers, balloons, a neon sign reading "Baby Thompson," and animal topiaries. Not to mention, the Snapchat video Jenner shared Wednesday appeared to be taken from a car, the same night as Khloé's 34th birthday party. Based on Instagram and Snapchat stories, the sisters (except for Kourtney, who seems to be in Italy, according to Instagram) all got together Wednesday evening in what looked like a backyard, along with Tristan Thompson and a group of pals, to celebrate Khloé's birthday. And even though the party appeared to be pretty low key, it was still filled with plenty of lavish elements, including endless balloons, flowers, and desserts, according to Khloé's Instagram.
Basically, the KarJenners always find a way to make their parties extra AF, and Stormi's is going to be no exception. So no matter what theme Jenner settles on, Stormi's first birthday is sure to be epic (and hopefully posted all over social media).
Since Stormi was born almost five months ago, Jenner has shared plenty of updates on her adorable baby. However, earlier this month, fans began to notice that Jenner had stopped posting photos of Stormi's face. When someone pointed it out in the comments of one of her Stormi photos, she responded, according to the Instagram account CommentsByCelebs:
Yeah I cut my baby out. I'm not sharing photos of my girl right now.
Even though fans were likely disappointed by the Stormi pics embargo, it's totally fair of Jenner to want to shield her baby from the public. After all, she did keep her entire pregnancy a secret (or at least, she did her best to keep it a secret), so it makes sense that she is keeping photos of Stormi to herself at the moment. That being said, hopefully Jenner decides to post at least a few pictures of Stormi at her first birthday party next February.