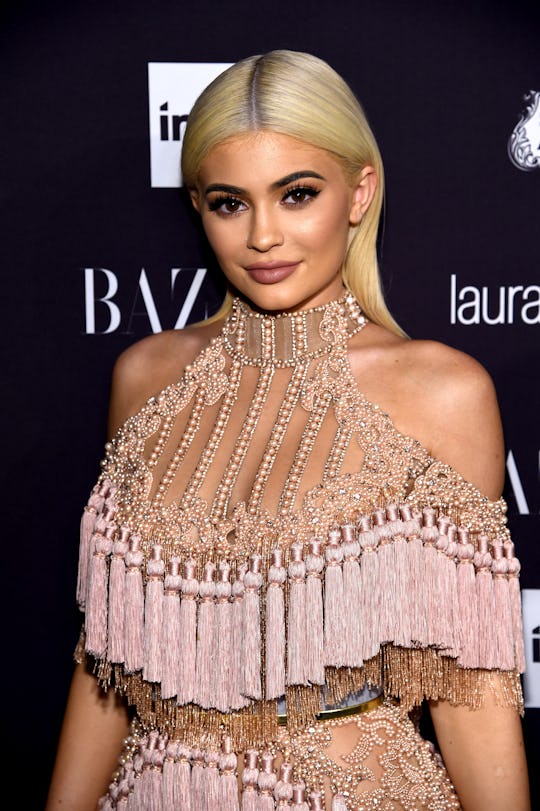 Jamie McCarthy/Getty Images Entertainment/Getty Images
Kylie Jenner's Daughter Stormi Is Already Taking After Her Mama In These Cute New Videos
Stormi Webster may only be going on 7 months old, but it's obviously not too early to tell what kind of interests she'll have. It seems Kylie Jenner's daughter Stormi is already taking after her mama in a cute and major way, as seen in some new videos posted by the makeup mogul on Tuesday. In the adorable new clip posted on Instagram, Jenner is holding Stormi, clad in an chic black-and-white striped romper and yellow hair bow, as the little one reaches for a sparkly pink cosmetics bag (and who wouldn't, right?).
The kit seemingly belongs to Jenner's BFF, Jordyn Woods, judging by the caption Jenner posted, which read, "bugging aunty jordy." Jenner went on to say in the clip, "Ohh! Girl, you're pushing over her makeup bag," all while looking delighted at the utter cuteness of her child as Stormi eagerly reaches for the cosmetics kit, which then promptly falls in the sink. Whoops!
"She wants the makeup bag!" Jenner laughs, head of the eponymous Kylie Cosmetics line, before kissing Stormi's chubby baby cheeks. Of course, this isn't the first time the world has seen such parental joy from Jenner, who's been steadily sharing more and more tidbits of her first child on social media since Stormi's arrival back in February. From her first post, a picture of Stormi's teeny tiny baby feet, to her later snaps showing Stormi snuggling with her mom, Jenner's adapted to motherhood like a duck to water.
There have been less than perfect moments along the way, though, like when Jenner seemed to have decided she wasn't going to post pics of the baby's face for a while when trolls made pronouncements about the baby's looks and paternity (and who would do that is scary to even contemplate). But it's nice to see Jenner back in stride and sharing her adorable daughter and fabulous life with fans more regularly.
And when I say fabulous, I mean it. As People detailed, Jenner was gifted a vintage white Rolls Royce on her 21st birthday by her boyfriend, Travis Scott, who wrote to her on Instagram:
Happy bday wifey I love u mommy u my heart rib toes and all. May GOD continue to bless u and ur spirit. This mark in ur life is the start to more greatness.
Pretty sweet gift, but unless Stormi wants to her driver's license way early, it's not like Jenner needs the additional ride. Forbes recently listed Jenner as on track to become the youngest-ever self-made billionaire, thanks to the resounding success of Kylie Cosmetics, which, the magazine noted, has made $900 million in three years. (Yes, you're reading that right.) So clearly, Jenner doesn't need anything from Scott or any guy, but it's nice see them sharing a bit more of their relationship with fans since they've formed a sweet family unit with Stormi.
The three of them celebrated Jenner's birthday together at her Calabasas home, according to People, before Jenner and Scott attended her pink-themed birthday bash at a lounge in Los Angeles. Pink and gold confetti fell from the ceiling as guests including Kendall Jenner, Kourtney, Kim and Khloé Kardashian, Kris and Caitlyn Jenner, Kanye West, Scott Disick, Bella Hadid, the Weeknd, and Chris Brown attended.
Everything's coming up roses for Jenner, clearly. And it's cool that she shares the Kardashian strong matriarchal attributes like her own mom, Kris Jenner. Now, the model/star/entrepreneur has a daughter of her own to whom she can teach all her marketing know-how, just like it was obviously given to her by earlier generations of KarJenners. As the star told Forbes about the possibility of one day turning her daughter into the next makeup mogul in the family: "Maybe one day [I'll] pass this on to Stormi, if she's into it."
Judging by the new footage on Instagram, I think that's a definite possibility, mama.