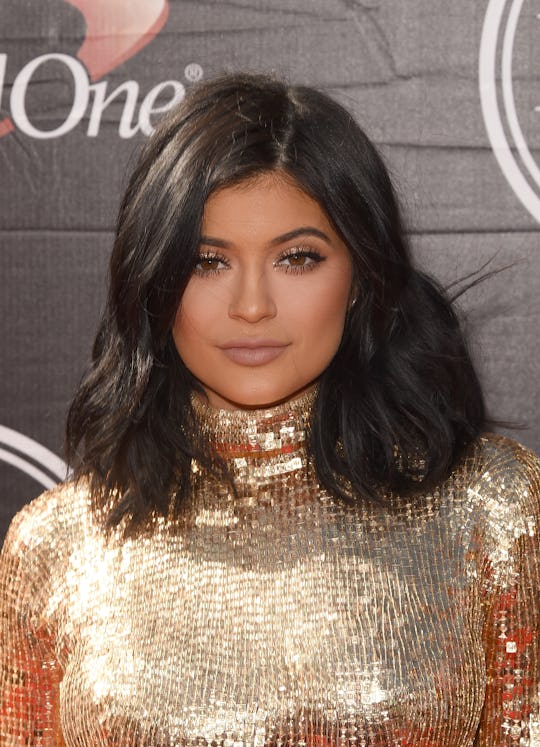 Jason Merritt/Getty Images Entertainment/Getty Images
Brace Yourselves, Because Kylie Jenner Just Shared The *Cutest* Videos Of Baby Stormi Yet
Because Kylie Jenner's pregnancy was shrouded in mystery, her fans get even more excited than usual whenever she posts an update on her 2-month-old daughter. Kylie Jenner's latest adorable posts featuring Stormi are a series of Snapchat videos, in which Stormi is smiling and giggling — while wearing Snapchat filters, of course.
In the first clip, which Jenner shared Wednesday afternoon, her hands are playing with her daughter's toes — and Stormi has some seriously adorable toesies. (I mean, most babies do, but Stormi's look simply scrumptious.)
"Hi happy girl. love you! I love you!" Kylie tells her beaming daughter in the next video. In that clip, Stormi's head is surrounded by a halo of fire emoji, and some sort of lullaby music is playing in the background.
In the next few clips, Stormi is decked out with a mouse ears filter — which happens to have also affected Jenner's voice, making it sound high and squeaky. Jenner continues telling Stormi that she loves her, before planting a kiss on her adorably chubby cheek. "We went outside. What else did we do?" the new mom says to Stormi in the next clip, featuring an absolutely adorable giggle from the newborn.
And here are some particularly adorable screenshots from the Snapchats:
When babies are as young as Stormi, they tend to grow super quickly. Comparing today's Snapchats to the photo of Stormi that Jenner shared on Instagram back in February when she was only a few days old shows a world of difference. You totally know which photo I'm talking about — the one that nearly broke the internet, with almost 18 million likes? It made headlines for revealing half of Stormi's face, for showing off both mama and baby's perfect fingernails, and for announcing Stormi's full name in the caption.
Since Stormi was born in early February, Jenner has shared several other photos of the little cutie, but none that showed off Stormi's face and growing personality as much as the videos she shared today. On Stormi's 1-month birthday, Jenner posted a shot with her "angel baby," but Stormi's face was hidden.
The first clear glimpse of Stormi's face (though it was partially obstructed by a pacifier) came in mid-March, when Jenner shared a photo of her grandma holding her new great-granddaughter (aka Stormi). "I mean.. does it get any better than this?" Jenner captioned the sweet shot.
Honestly, it makes sense that Jenner has been revealing her daughter's face in increments. In order to keep her pregnancy under wraps (which didn't really work, since everyone found out anyway), Jenner distanced herself from social media. She used to post lengthy Snapchat stories and share Instagram posts on the daily, but she took a huge step back in order to prepare to become a mom. And in her birth announcement, she made it clear that she really loved the "stress-free" lifestyle that came with her private pregnancy. She wrote:
Pregnancy has been the most beautiful, empowering, and life changing experience I've had in my entire life and I'm actually going to miss it. I appreciate my friends and especially my family for helping me make this special moment as private as we could.
So while fans of Jenner and her new family would undoubtedly love to see more pictures and videos of Stormi's face, it's totally logical that Jenner is sharing her daughter's life with the public at a very gradual pace.
That being said, it will certainly be interesting to see if Stormi winds up on Keeping Up with the Kardashians sometime soon. The show recently wrapped up its 14th season, and the upcoming Season 15 will could focus on Jenner's pregnancy. So if she does decide to let cameras into Stormi's life, viewers likely won't see that until Season 16. In the meantime, though, the world has these adorable updates from the mom herself.
Check out Romper's new video series, Bearing The Motherload, where disagreeing parents from different sides of an issue sit down with a mediator and talk about how to support (and not judge) each other's parenting perspectives. New episodes air Mondays on Facebook.