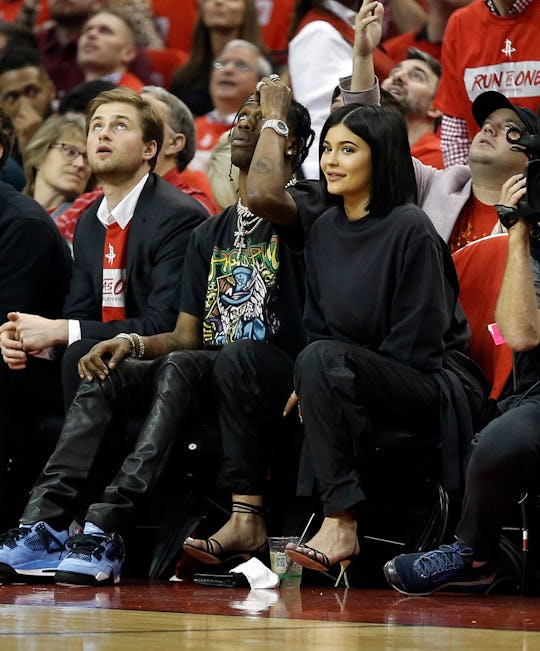 Bob Levey/Getty Images Sport/Getty Images
Travis Scott's New Song "Watch" Includes A Sweet Verse From Kylie Jenner About Stormi — LISTEN
Tracking when celebrities feature their family or partners on new projects is always fun. On a recently released track by Travis Scott, fans noticed a subtle female voice at the end of the song and it barely took any time to guess who it was. Almost lost beneath the instrumentals laid over it, Kylie Jenner had a verse about Stormi in Scott's new song "Watch" and it's a great way to end the track.
A year after releasing "Butterfly Effect", Scott finally dropped the new track featuring both Lil Uzi Vert and Kanye West. It will be featured on his album, Astroworld, named after a Six Flags-owned theme park that closed in 2005. In an interview with GQ, Scott explained the significance of the album's title, saying, "They tore down 'AstroWorld' to build more apartment space. That's what it's going to sound like, like taking an amusement park away from kids. We want it back. We want the building back. That's why I'm doing it. It took the fun out of the city."
With that context, the song's high energy is perfect. It makes sense that Scott would invite Jenner — his girlfriend and mother to his 3-month-old daughter — on to rap a few lines and some fans are speculating that the outro is in reference to their daughter, Stormi.
At the end of the track, Jenner can be heard saying:
We got bust down Rollies, bust down Rollies / And I told him I wanted to have a bust down baby.
The lyrics start by referencing rolexes, which had been mentioned throughout the song, such as when Lil Uzi rapped, "Look at your Rollie, uh, look at my Rollie, uh / That's a small face, uh, this is a big face, uh."
Lil Uzi's lyrics are an obvious brag, referencing the size of the bezel on their watches. The bezel is top ring of the watch that surrounds the crystals and, as with most things, the bigger the better. So, when Jenner comes up at the end of the track, she continues the brag about their size and quality of their jewelry. She goes on to talk about wanting a bust down, or an expensive watch that's flooded with diamonds.
Considering the amount of wealth the Kardashians, and Jenner alone has, combined with Scott's, it's easy to imagine that these lyrics aren't just an empty flex. But aside from the brag, it's nice to see Scott feature Jenner on the track.
Earlier this year, people noticed that Jenner hadn't been as present on social media or at events in quite some time. Some fans began to look for any clues as to what was going on. Due to previous pregnancy rumors, fans were quick to suggest that Jenner was, indeed, pregnant and on Feb. 4, 2018, Jenner confirmed it. She had stepped back from the spotlight because she was pregnant.
"My beautiful and healthy baby girl arrived February 1st and I just couldn't wait to share this blessing," Jenner wrote in her Instagram announcement. No one could blame her for deciding not to go through pregnancy in front of the world, especially considering that this was her first child. Not long after on the same day, Jenner published her and Scott's beautiful video tribute to Stormi on YouTube, entitled "To Our Daughter."
Since then, fans have been excited to watch as Stormi grows. Recently, Jenner posted a three month update on Stormi, and she's such an adorable baby.
When Travis Scott's Astroworld is finally released, it'll be interesting to see if Scott incorporates any more of his family, whether it's more features or lyrical references. But, for now, be sure to give "Watch" a listen.
Check out Romper's new video series, Bearing The Motherload, where disagreeing parents from different sides of an issue sit down with a mediator and talk about how to support (and not judge) each other's parenting perspectives. New episodes air Mondays on Facebook.