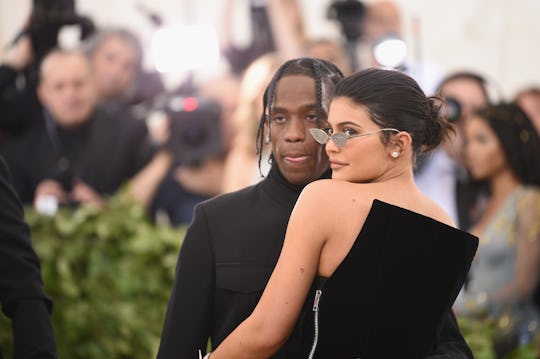 Jason Kempin/Getty Images Entertainment/Getty Images
Kylie Jenner's Video Of Stormi Smiling & Giggling With Travis Scott Is Just Too Sweet
To celebrate her 21st birthday this past weekend, Kylie Jenner went hard. She threw herself a wild party, documenting the late night affair all over social media. Of course, her 6-month-old daughter Stormi couldn't attend the bash — but that doesn't mean she didn't get to celebrate her mama's birthday. Over her birthday weekend, Kylie Jenner posted a video of Stormi and Travis Scott sharing a sweet moment, and it's so exciting to see a rare look into their family.
On Friday, the day after her epic Barbie-themed bash, the tone of Jenner's Snapchat transitioned from party animal to family gal. The makeup mogul Snapchatted a short video of her boyfriend Travis Scott holding their baby girl. To the tune of music playing in the background, Scott danced with Stormi, giving her sweet kisses on the cheek. From off-camera, Jenner excitedly asked her daughter, "You like the music baby?" Stormi evidently did, because she smiling widely and giggling in her dad's arms. It's sooo cute.
Even though Jenner shares plenty of adorable moments with Stormi on social media, it's pretty rare to witness a moment like this with all three family members. Just LOOK how cute and happy they all are together!
Scott was clearly overjoyed to be celebrating the birthday of his girlfriend — or, should I say, his "wifey." On Saturday, alongside an Instagram album of three photos of the couple, Scott wrote:
Happy bday wifey I love u mommy u my heart rib toes and all. May GOD continue to bless u and ur spirit. This mark in ur life is the start to more greatness.
He also got her a pretty bomb present for her 21st — a car. Rather, another car. Scott gave Jenner a vintage Rolls Royce, as Teen Vogue reported. "a blessed birthday ✨ so grateful," Jenner captioned a photo of herself posing next to the car on Instagram. How does everyone know the car was a gift from Scott? Jenner tagged him in the photo, right where the car is — so unless he's laying down in the back seat, it's safe to say this was his gift for Jenner. It's probably not the most child-friendly vehicle, but it'll do just fine for date night.
In case you forgot about the other time Scott gifted Jenner a car, allow me to remind you of the equally epic gift he gave her after she delivered Stormi. In late February, Scott presented Jenner with a $1.4 million black LaFerrari for her "push present," aka a thank you present for giving birth, according to Cosmopolitan. "Picking up my new b*tch," she captioned a photo of the impressive car on Instagram in March.
Jenner and Scott recently opened up about their relationship and their family of three in a cover story for GQ. Jenner told the interviewer that the day before, her and Scott got in a fight while he was away in Houston. So, she flew to see him just for a couple of hours. As she told GQ:
Me and Travis got in a little fight. Which is normal. So I was just crying because I was just overwhelmed. It wasn't even about anything really specific. I was just overwhelmed. And then we made up an hour later. I just flew to Houston to see him for a few hours. ... Just because we're a family now. When we fight, it's usually just because we've been away from each other for too long and we didn't see each other for like two weeks. And we have Stormi now, and I can't travel with her. She's too young. So it's harder to see each other, but I was like, I just need to go and fix this and go back.
It's clear that Kylie Jenner and Travis Scott are so happy to be parents to Stormi together, and it will be so exciting to continue to watch them raise their baby girl.