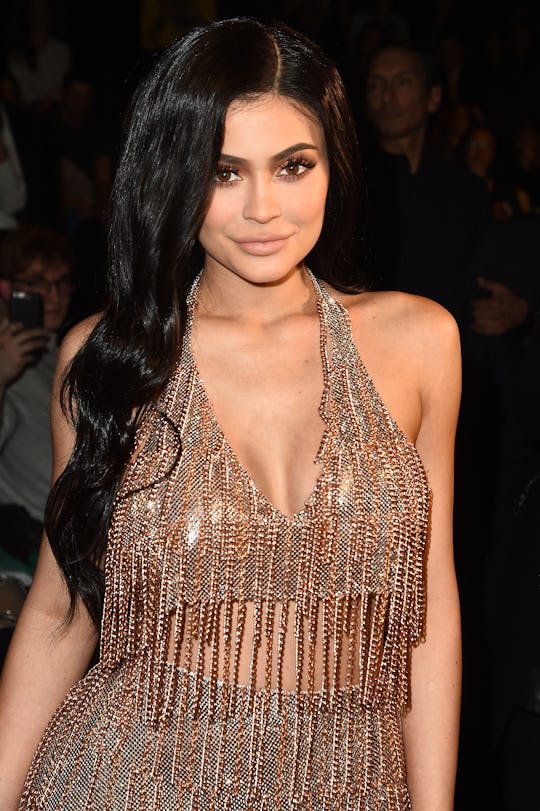 Nicholas Hunt/Getty Images Entertainment/Getty Images
Kylie Jenner's Push Present After Giving Birth To Baby Stormi Will Blow Your Mind
Every woman deserves a little push present, and Kylie Jenner is no different. But while most of us might opt for a piece of jewelry or something small, Kylie Jenner's push present is just as extravagant as everything else she does. Hiding a pregnancy from the entire world couldn't have been easy, so it's all certainly well deserved. After announcing her new lipkit set "Weather," dedicated to her daughter Stormi Webster, it looks like Jenner needed yet another way to celebrate the birth of her baby girl.
On an Instagram Story this weekend, Jenner showed off a black LaFerrari with red detail in her driveway. The car is basically a Ferrari but more exclusive — only about 500 were made and it costs around $1.4 million. Although there's no word on whether or not you can fit a car seat in the back or not, I'm guessing not so much.
Jenner didn't say whether she bought it or if it was a present from her boyfriend Travis Scott or if she treated herself, but she's definitely loving it. Who wouldn't? The website for the car says that it's the best car for "extreme open top driving," which the rest of us just call "driving with the top down," and you can picture the new mom, her BFF Jordan Woods, and baby Stormi cruising around Calabasas in this work of art. Jenner also has a Ferrari Spider and a Land Rover that she gifted herself, so designer cars are sort of her thing.
Every other day, there seems to be a new rumor that Scott and Jenner are splitting up or fighting or something, but in reality, it appears that the couple is doing just fine. On Saturday, the couple was spotted out and about in Malibu, in her LaFerrari, having lunch with friends, according to E! News. An anonymous source spotted them at Nobu in "with some friends and family Saturday afternoon." The source added, "They were there for about two hours and enjoyed each other's company...They looked like they were happy to spend time with each other."
Buying million dollar cars and going to Nobu for lunch isn't something a couple on the verge of a breakup does, so maybe the world just needs to let the couple live their life. And it's good to know that she actually takes that thing out for a spin every once in a while.
The endless rumors about cheating and fighting seem to be really, really wrong. While Jenner was in hiding during her pregnancy, her absence meant that people could say and assume whatever they want, but with the release of Stormi's birth announcement video, she really put all the rumors to rest. In the 11-minute video called "To Our Daughter," she and Scott appeared to be spending tons of time together and really getting along.
There are shots of Jenner showing his family pictures of their ultrasound and it even looked like they were at the hospital for the birth. The Kardashians and Jenners are all about keeping their family close, it's definitely in character for Jenner to want to make her relationship work for her daughter. They were only dating for a few months when she discovered she was pregnant and the two reportedly don't live together yet, which is probably a great idea.
It's good to have space, especially when there's a new baby around. And Jenner has tons of help in her mom, sisters, and hired staff when it comes to taking care of baby Stormi. There's also no reason that she should rush to get married or move in with anyone just because there's a baby now. You can be a good parent with any relationship status. But having a designer car to drive around in certainly makes things a whole lot more fun, too.
Check out Romper's new video series, Bearing The Motherload, where disagreeing parents from different sides of an issue sit down with a mediator and talk about how to support (and not judge) each other's parenting perspectives. New episodes air Mondays on Facebook.