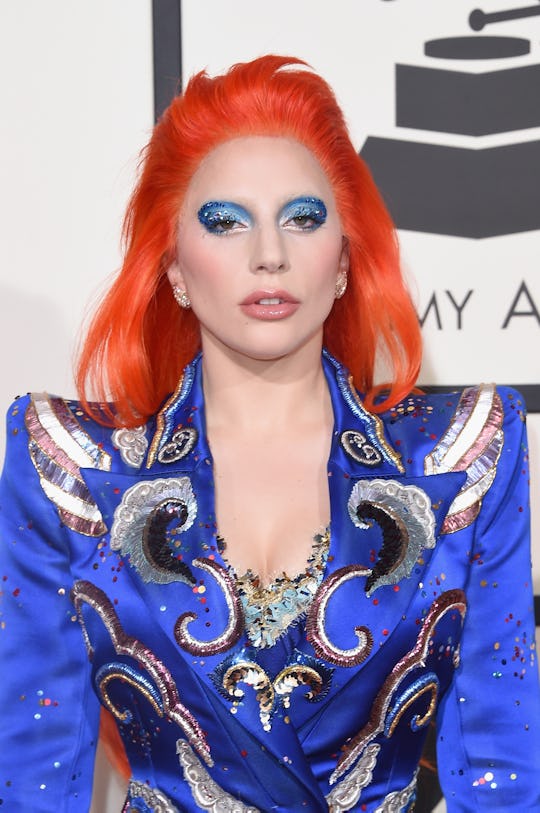 Jason Merritt/Getty
Lady Gaga's David Bowie Grammys Look Was An Incredible Tribute To The Idol
The 58th Annual Grammy Awards offered some beautiful, kind of insane, and downright amazing fashion statements, but no one surpassed Mother Monster's red carpet tribute. Lady Gaga's David Bowie Grammys look was everything, and laid to rest any and all discussions on who won this year's Grammys red carpet look.
Gaga is attending the Grammys to give a 10-song, nearly 15-minute medley of David Bowie's best songs as a tribute to the late, great musician. For those who don't know (and honestly, I'm a little jealous if you don't, because it still hurts), the world lost a legend in David Bowie on Jan. 10 of this year. The iconic artist was just 69 years old, and lost his battle with cancer after 18 heroic months. The entire world mourned the loss of David Bowie, and continue to do so, proving over and over again that no one had an impact quite like Ziggy Stardust.
Gaga arrived at the show already channeling the Starman, donning a look that clearly pays tribute to a man that has influenced her career, as well as many others. Gaga was wearing a bright blue, glittery half-suit, half-dress, coupled with bright blue eyeshadow and Bowie's iconic orange hair. Anyone who saw Gaga walk the red carpet couldn't help but think that they were watching a female reincarnation of Bowie himself.
Don't believe me? Well, go ahead and take a look for yourself:
Slay, queen. Slay.
Now, despite the fact that Gaga never had the chance to meet Bowie in person, she has repeatedly given Bowie credit for influencing not only her now unbelievable career, but herself as an individual. Bowie paved the way for people to be unapologetically different, and redefined the way society looked at gender, sexuality, and everything in between. There's no doubt that the world is a slightly dimmer place since Bowie left us all, but you can see glimpses of Bowie in Gaga (in her music, in her appearance, in her gender-fluid performances), which makes her a fantastic choice to pay tribute to an influential man no one will ever forget.
This amazing opportunity isn't lost on Gaga, either. She recently posted a video on Instagram, which detailed the getting ready process for the Grammys. She was listening to Bowie, crying, blue tears (a nod to the man we all loved and lost) falling down her cheek.
Bowie touched countless lives, and will continue to do so through his timeless music. I have a feeling that Gaga's tribute tonight at the Grammys will do the same, and will be a moment in time when we can all look back and say, "There. That performance is how we know that Bowie will never truly die."