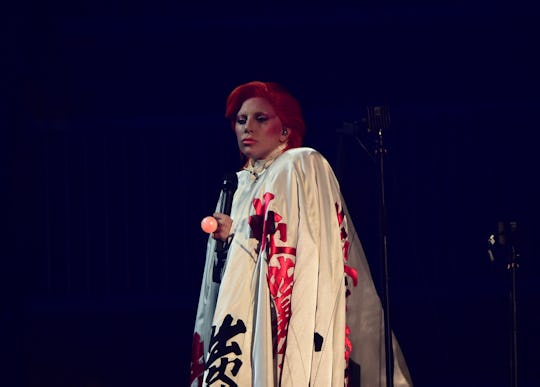 ROBYN BECK/AFP/Getty Images
Lady Gaga's David Bowie Tribute Was As Iconic As It Was Moving
To say that Lady Gaga is simply a fan of David Bowie would be a gross understatement. No, Lady Gaga admires, loves, and is forever grateful of and for David Bowie. Those feelings are shared by many, and they were certainly highlighted on Monday night, during her highly anticipated Grammy performance. Lady Gaga's David Bowie tribute was iconic and powerful and everything a (still) mourning world needed, even if it wasn't necessarily something they wanted. Lady Gaga gave a 10-song, nearly 15-minute medley of Bowie's most memorable songs, taking audience members and viewers alike through a career that spanned decades and changed the way society viewed gender, persona, sexuality, stardom, and music itself.
Not only did Gaga look exactly like Bowie, she beautifully blurred gender binaries, much like the icon himself. Gaga rocked a short, bright red/orange hair, wore a long-sleeved pants suit, and seemed to be less of a goddess and more of a god. She channeled Bowie in a way very few can, which is probably why she was offered the opportunity to give Ziggy the Grammy treatment he so rightfully deserved.
Gaga even dropped her voice — at times, it seemed like entire octaves — to sound less like a woman and fan and thankful artist, and more like the man who changed music and the way we connected to it. The energy that poured out of Gaga seemed supernatural, and one couldn't help but imagine Bowie sitting in a tin can, looking down on her performance and smiling as he danced along. That is what this Grammys moment gave us all, and even though it couldn't come close to an actual Bowie performance, it had to have made the Starman proud.
Here's a peek at her performance:
Lady Gaga's ability sheer power and authentically moving tribute comes as no surprise, as Mother Monster has made her affinity for all things Bowie extremely well-known. Prior to her Grammy performance, Gaga got a Ziggy Stardust rib tattoo, solidifying herself as a die-hard fan and forever memorializing an artist she not only regarded as a visionary, but also as a mentor. Although Gaga had never met Bowie in person, it's clear that he influenced her career in ways that have undoubtably contributed to her success.
Gaga also made a subtle but memorable tribute to the Thin White Duke during her stunning rendition of the Star Spangled Banner at this year's Super Bowl. With Bowie-inspired hair and bright, sparkling blue nails, Gaga seemed to embody the spotlight that seemed to naturally and effortlessly follow Bowie the moment his first song was played on the radio.
And many times, both before and since her Super Bowl stunner, Gaga has channeled the artistic and fashion-forward thinking of the Man in the Tin Can. From a painted star over her eye to sequined jackets to bold statements that left many wondering "why?" and even more people yelling, "yes!" Gaga was an obvious choice for a Bowie tribute ahead of the Grammys and, on Monday night she reminded us all exactly why.
There's no doubt that the world will continue to mourn the loss of a visionary artist, but for a few moments on a stage in Los Angeles, Gaga made it feel like David Bowie never left us. And honestly, he didn't. He just went home.