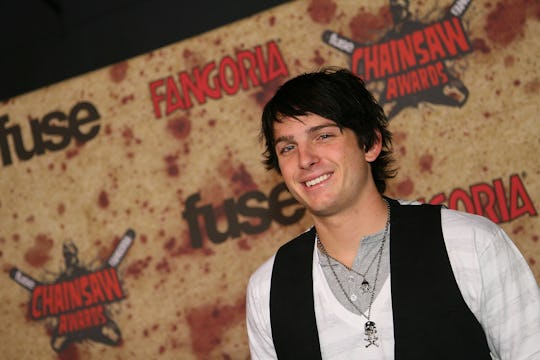 Michael Buckner/Getty Images Entertainment/Getty Images
'Laguna Beach' Alum Talan Torriero & Wife Danielle Welcome A Baby Boy
The Kardashians aren't the only reality mavens having a reported baby boom. In fact, while Keeping Up with the Kardashians stars Khloé Kardashian and Kylie Jenner haven't even confirmed their rumored pregnancies, the one-time stars of the some of the most beloved MTV reality sagas of your teen years are having babies left and right. Case in point: Laguna Beach alum Talan Torriero and his wife, Danielle, welcomed a baby boy Sunday, and he's yet another newborn who may one day join the next generation of the empire that was Laguna Beach and then The Hills. But the realization of that pipe dream is a long time off, so it's lucky for fans dying for a sneak peak that Bronson Leonardo Torriero's parents didn't waste any time sharing early pics of him with the world.
It was Torriero, who established his reputation as a ladies' man on Laguna Beach between 2004 and 2006, who first took to Instagram to announce his first child's birth. He captioned the pic, an adorable closeup of Danielle lying in her hospital bed with the baby yawning on her chest, with the sweet message that he'd fallen in love with her "all over again" that day. And that's saying something, because the 30-year-old brand-new dad and his wife have been together for about eight years, according to E! News, and have been married since June 2014.
Still, it's no surprise that having a baby together would take their relationship to the next level and intensify their love. I mean, just look at that face.
And Danielle chimed in on Instagram not long afterward with an sweet snap of the entire family — which, she wrote, represented the "happiest moment of our lives."
The happiest moment of the couple's lives perhaps came a few days earlier than they had expected it to. Danielle had actually been scheduled to be induced Oct. 11, as Torriero told Us Weekly in a statement. Instead, her water broke at 2:30 a.m. Oct. 8, and Torriero got to share an absolute ode to her with the magazine not long after Bronson was born just before 3:30 p.m. that day. He told Us Weekly:
I can't tell you how proud I am of my wife. She had a tough pregnancy and I am in awe of how well she handled giving birth to our son. When I first saw my son cry and take his first breath in the world, I couldn't help but tear up just thinking about how beautiful life is. I fell even more in love with my wife today. She is going to make an incredible mother and I can't wait to get our boy home to start this journey.
Awwww, right? Doesn't it make you yearn to see Torriero on the reality show circuit again? Maybe as part of a special parenting edition of Laguna Beach?
Hey, even though Torriero has left his hometown of Laguna Beach to start his family in Nebraska, it is possible. After all, there's no shortage of co-stars from the reality show and its popular spinoff, The Hills, who are parents now and could potentially take part. It girl Lauren Conrad welcomed a baby boy with her husband back in July, for example, and her one-time arch nemeses Spencer Pratt and Heidi Montag did the same on Oct. 1, just one week before Bronson Torriero came into the world. And Whitney Port's son, Sonny, made his debut at the end of July and Jason Wahler joined his wife in welcoming a daughter, Delilah Ray, less than a month later.
Coincidence? Probably. Epic opportunity? Absolutely. Congrats to Talan and all the other MTV reality stars of a very ~*dramatic*~ era on expanding their families' casts of characters!
Watch Romper's new video series, Romper's Doula Diaries:
Check out the entire Romper's Doula Diaries series and other videos on Facebook and the Bustle app across Apple TV, Roku, and Amazon Fire TV.