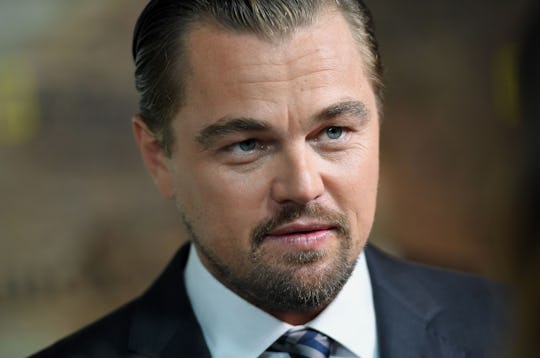 ANGELA WEISS/AFP/Getty Images
Leonardo DiCaprio Responds To Alan Thicke's Death & His Statement Will Break Your Heart
Actor Alan Thicke was "America's Favorite Dad," and, on Tuesday, he died at age 69 after suffering a heart attack while playing hockey with one of his real-life sons. Grief over his sudden death flooded social media when the devastating news hit, as others in the entertainment industry who had known him over the course of his illustrious career processed the loss. On Wednesday, his onetime Growing Pains costar Leonardo DiCaprio joined them, responding to Alan Thicke's death by celebrating him as a "positive influence" who taught him the "valuable lessons about humility and gratitude" in a Facebook post. DiCaprio was a young actor in 1991 when he joined the Growing Pains cast as a homeless youth Thicke's on-screen family took in, and his status as a father figure seems to have endured in the pair's relationship since.
DiCaprio — now a major movie star of literally Titanic fame — was only 16 years old and a relative unknown when he made his debut as Luke Bower on the popular 1980s sitcom, according to The Huffington Post. Thicke's Jason Seaver, the patriarch of the iconic Seaver family, became his character's de facto father during the final two seasons of the show's seven-season run.
And the now-42-year-old hasn't forgotten Thicke's "tremendous class" and "huge heart," as he wrote in the emotional post:
Alan was a devoted father, husband, friend and role model. He knew how to harness the power of the entertainment industry to be a positive influence in so many lives - including mine. I will be forever grateful for the opportunity I had to work with Alan early in my career. He had tremendous class, a huge heart, and he taught me and so many others the valuable lessons about humility and gratitude. I've seen him a number of times over the years and when Alan Thicke walked in the room, quite frankly, no one was cooler. I miss him already - my thoughts and prayers are with the entire Thicke family during this difficult time.
DiCaprio, of course, was far from the only Thicke costar to publicly commemorate him. He recently charmed audiences on the released second season of Netflix's Fuller House, which was released just last week. Candace Cameron-Bure (who, incidentally, is the real-life sister of Kirk Cameron, who played Thicke's older son on Growing Pains) posted a touching tribute to Instagram, writing that she was "sad beyond words" at the news of his sudden passing. "I've known you since I was 8 years old and so glad I had the pleasure of working with you again so recently on Fuller House," reads part of the caption of a photo of the two on set.
In addition to gracing Fuller House with a cameo, Thicke, who was Canadian, has been active on the small-screen circuit lately, with a role on NBC's acclaimed This Is Us and sporadic but memorable appearances on the sitcom How I Met Your Mother, which, like Fuller House, is now available for streaming on Netflix.
These roles endeared him to audiences and those who got to know him alike. As DiCaprio's touching tribute to him shows, his personality will shine through in the memories of many of the actors who've had the opportunity to work with him over his storied career.