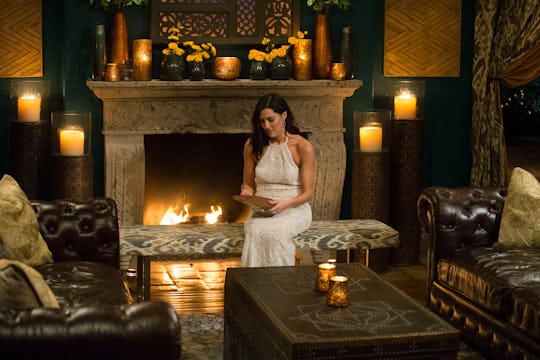 Paul Hebert/ABC
Everyone Is Just About Over 'Let's Do The Damn Thing' Already
One of the most anticipated aspects of Becca Kufrin's season of The Bachelorette, other than watching Becca move on from Arie Ludendyk Jr., was hearing her say her catchphrase. But the tweets about "let's do the damn thing" on Twitter prove that pretty much everyone is over Becca's catchphrase by now. It's unfortunate, because if ABC hadn't run it into the ground ahead of the premiere, it could have been a thing — but by the time The Bachelorette premiered Monday night, it had essentially run its course.
When Becca first introduced her now famous catchphrase during Arie's season of The Bachelor, it was endearing and fresh and, just like Becca, fans hoped that Arie would break it out during his proposal to her. he didn't, and maybe that should have been the first clue that things would heath south, but ABC took the phrase and ran with it ahead of the premiere of Becca's season of The Bachelorette. Unfortunately, after the first of a few times it was mentioned in the first half hour of the premiere Monday night, fans had already proved on Twitter that they're done with it and hope that the season won't be full of awkward and uncomfortable moments of "Let's do the damn thing."
I would say that, like so many Bachelorette fans on Twitter, Becca's catchphrase could turn into a drinking game for the season. With the amount of times it was already said during the premiere, however, the game would probably have viewers fairly wasted halfway through each episode every week. That being said, fans on Twitter do have a pretty good sense of humor about dealing with "Let's do the damn thing" as an epic drinking game.
Again, it probably wouldn't work as a drinking game, but Bachelorette fans now have a way to get totally drunk during Becca's season without doing much other than listening for her famous catchphrase. Since, you know, it's bound to come up all season long without fail.
Even Tanner Tolbert from The Bachelorette Season 11 and Bachelor in Paradise Season 2 got in om the fun of hating on "Let's do the damn thing." Don't get it twisted — it was definitely a fun phrase at first, but The Bachelorette premiere proved that Bachelorette fans aren't having it now that it's been said for the upteenth time.
Then, we have another Bachelorette alum, Diggy Moreland, who spoke too soon when he tweeted that within the first 11 minutes of The Bachelorette premiere, Becca hadn't yet said it.
As fans, there's basically no getting away from "Let's do the damn thing" on The Bachelorette this season, at least if the premiere was any indication of how it will go as the season progresses. It was even once Becca's Instagram bio tagline, but now that it's become such a "thing," she has since deleted it, so chances are, after the season ends, Becca won't be as ready to say it anymore. Aside from being played out by now, though, it was admittedly the perfect tagline for her season of The Bachelorette, then, even if fans on Twitter definitely aren't into it anymore.
On Monday's premiere of The Bachelorette, there was no shortage of times when Becca's contestants uttered the forever famous catchphrase that will go down in Bachelor Nation history, "Let's do the damn thing." Even if you loved it when Becca first said it on The Bachelor last season, it's safe to say that it's already done as far as most Bachelorette fans are concerned. Thankfully, though, there are a ton of other reasons to continue to love Becca and root for her this season.