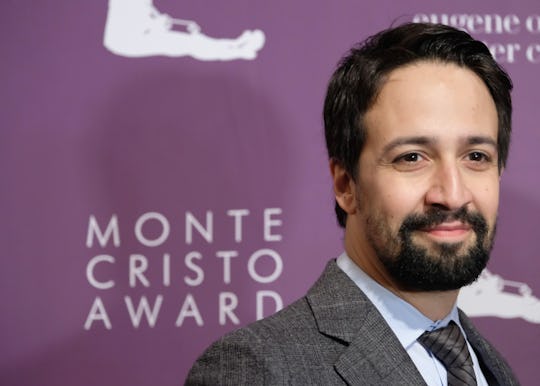 Bryan Bedder/Getty Images Entertainment/Getty Images
Lin-Manuel Miranda's Lullaby At The 'Families Belong Together' March Will Break Your Heart
On Saturday, hundreds of thousands of people gathered, including celebrities, in Washington, D.C. and cities across the country to protest President Donald Trump's "zero-tolerance" policy. The policy, adopted in the spring, had led to thousands of immigrant children being separated from their families and placed in detention centers, while their parents were sent to jail. While Trump signed an executive order last week ending the practice of child-parent separation, those families that were torn apart have yet to be reunited. And it's those families you should keep in mind when you listen to Lin-Manuel Miranda's lullaby at the D.C. 'Families Belong Together' protest. Try not to let it break your heart.
Before he sang, Miranda told the packed, cheering crowd at the 'Families Belong Together' march, "We're here because there are parents right now who can't sing lullabies to their kids," according to a short video clip that CNN posted to Twitter. The Hamilton creator, who has two children with wife Vanessa Nadal, continued, "And, well, I'm just gonna sing a lullaby that I wrote and this is for those parents. And we're not going to stop until they can sing them to their kids again," the CNN clip showed. Watch below:
Protesters at the 'Families Belong Together' march in Washington, D.C. began to sing along as Miranda continued to croon his tune, according to Mother Jones. An American Sign Language interpreter also stood near the stage, delivering the playwright's lullaby to Deaf members of the crowd, the CNN video showed.
Miranda was not the only celebrity present at the D.C. 'Families Together' march. Actor and first-time mom America Ferrera also took the stage at Lafayette Square to give a fiery speech criticizing Trump's "zero-tolerance" policy, and demanding that the government reunites separated families, according to CBS News.
Ferrera, who gave birth in May to son Sebastian, told the crowd:
We have an imagination. Let's use it. As I read these words from a grandfather who is fighting to be reunited with his granddaughter, I want you to imagine this is your child.
The star of NBC's Superstore, who is a child of Honduran immigrants, then went on to read a letter from a grandfather who is petitioning to sponsor his granddaughter from El Salvador who is detained at a detention center at the border, according to a CBS News clip of Ferrera's speech. The grandfather, who lives in a duplex in Oakland, California, wrote that he knows "he doesn't make a lot of money," but will give her "everything I have," Ferrera told the crowd. The situation remains unresolved.
Singer Alicia Keys also gave a speech at the 'Families Belong Together' march in Washington, D.C., according to USA Today. Taking the stage before Ferrera, Keys stood at the mic to rally the crowd gathered to condemn Trump's "zero-tolerance" policy. Introducing herself as a "mother," Keys said, according to USA Today:
My seven-year-old son is here with me today. His name is Egypt. And I couldn't even imagine not being able to find him. I couldn't even imagine being separated from him or scared about how he is being treated, so this is all of our fight, because if it can happen to any child, it can happen to my child and your child and all of our children.
Keys also read from a letter written by a mother whose son is being held at a detention center, USA Today reported. When closing out her speech, the Voice judge said:
Our democracy is at stake. Our humanity is at stake. We are out here to save the soul of our nation. We need all the children reunited to their parents.
She continued:
We demand to end the zero humanity policy. We need to save the Supreme Court and we need to vote, because when we vote, we win.
Her words were so inspiring that attendees at the D.C. 'Families Belong Together' march began chanting, "We're not backing down," according to USA Today. And that's a promise.