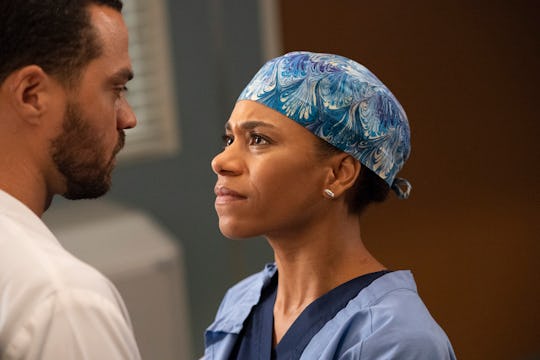 Mitch Haaseth/ABC
This Could Be The End For Maggie & Jackson On 'Grey's Anatomy'
After April gave Jackson the go ahead to pursue Maggie last season, things were supposed to be easy for them. But as with most couples starting out on Grey's Anatomy, Jackson and Maggie's relationship has already hit a speed bump. And it's unclear if they can come back from this. Right now, it seems that Maggie and Jackson might be over on Grey's Anatomy and fans on Twitter have conflicting feelings. On Thursday's episode, Maggie found texts on his phone from another woman and, he explained, he'd been talking to this other woman he met while on his mission to find religion. It may have been innocent enough, but it was the catalyst for a long talk between Maggie and Jackson and might have been the beginning of their end.
Some fans feel like this was already a long time coming and never really "shipped" Jaggie to begin with. Others are heartbroken over Maggie possibly losing Jackson over his newfound faith and inability to connect with her.
I don't know if it's as simple as taking sides or accusing one of them of being the person who ruined the relationship. Jackson accused Maggie of not being able to talk to him about important things in their respective lives and that it's part of what drive him to seek that emotional part of a relationship in other women. He probably should have brought that up before talking to women behind her back though, so that's where they are right now. It's not looking great and fans on Twitter are split about it.
Maggie and Jackson's potential breakup has some fans breathing a collective sigh of relief at the end of Jaggie, while others can hardly take anymore Grey's heartbreak. But for those who have been waiting for the end and have never really seen them as a romantic pair, this potential breakup is almost like confirmation that they were right all along.
Maybe it's because some Grey's fans are still hung up on April and Jackson, but the mere mention of Jackson talking to her as well as this other mystery woman is enough to make them ready to say goodbye to Jaggie for good.
During Maggie and Jackson's talk, he admitted to talking to April about his feelings and about having regrets about their relationship. As to be expected, it was too much for Maggie to handle. Then he had to make it worse by telling her, "The one thing April and I could never see eye to eye on was God... and now that I do, I really do, it's too late. She's married, shes happy with someone else." That's probably not something you want to hear from your boyfriend about their ex.
For every fan who wishes April would come back to ride off into the sunset with Jackson, there are some viewers who are total Jaggie supporters. The beginning of their relationship, which involved lots of awkward flirting, was adorable and a nice change of pace from the on-call room hookups that Grey's is known for. To some fans, they were an unexpected couple but still good together. So the idea of Maggie and Jackson breaking up for good is too much for those fans.
I'll admit that as a fan of April and Jackson, I wasn't thrilled when Jackson and Maggie started to get serious. They are, after all, kind of, sort of family since his mom married her birth father. But they grew on me a little and now Grey's may have messed up a good thing.
Whether you love or hate Maggie and Jackson as a couple, his conversations with other women and regrets about April are reason enough to have them step back from each other for a little while. I'm not sure if they're going to be able to move past this issue, but it's not going to be easy for either of them.