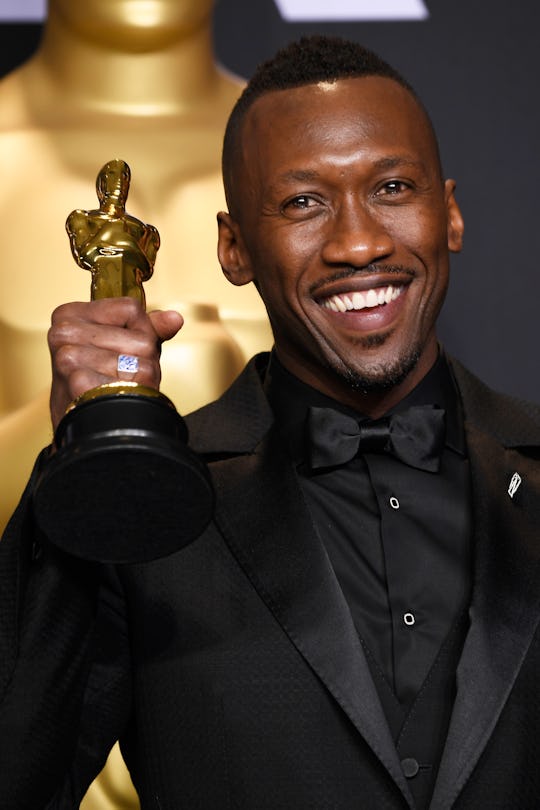 Frazer Harrison/Getty Images Entertainment/Getty Images
Mahershala Ali's Baby Has An Amazing Birth Story
This week has been one for the books — especially for Mahershala Ali. Just a few days prior to becoming the first Muslim actor to win an Academy Award, the Moonlight actor and his wife, singer Amatus Sami-Karim, welcomed their first child, Bari Najma, to the world — and the newborn's arrival was nothing short of remarkable. As Us Weekly reported, speaking to Access Hollywood on the red carpet just before winning his first Oscar for best supporting actor on Sunday, Ali said Bari's birth included a rare medical occurrence: The little one was born inside her amniotic sac.
"The water didn't break until the baby was literally almost out. So when she was born, she came out in a clear, like, bag," the 43-year-old dad told Access Hollywood on Monday. "And I'm going, 'Wow, they come brand new!' And ... she was in the sack, and it was incredible!"
"It was such an extraordinary experience," he continued, adding that his little girl came out clean and doctors had to slip her out of the thin membrane.
As Us Weekly pointed out, this kind of rare delivery is called an "en caul" birth, which is sometimes referred to as "born with a veil" or "born in a shirt." This type of birth occurs in fewer than one in 80,000 births when a mother's water doesn't break before she goes into labor, according to BabyMed.com.
While the appearance of this type of birth may be strange and perhaps a bit frightening if you're not expecting it, it's actually completely harmless as it protects the baby and can even be a less painful delivery for the mother, according to PregnancyCorner.com.
The site also explained that this type of birth has adapted a few superstitions throughout history. Medieval Europeans, for example, believed that a baby born this way was a sign of good luck and destined for greatness or would have superpowers to protect themselves from drowning. But, as the pregnancy site noted, some superstitions haven't been as positive, as Romanians once believed that a baby born this way would become a vampire after death. (Bari probably won't become a vampire, let's be honest.)
If you've never seen this incredible phenomenon, watch this video to get a better understanding of what the new parents experienced in the delivery room:
On Feb. 22, Ali's baby girl was born in this remarkably rare way and then just four days later on Feb. 26, the actor made history at the 2017 Oscars. However you slice it, the first-time dad has a lot to celebrate — and perhaps a reason to buy a couple lottery tickets.