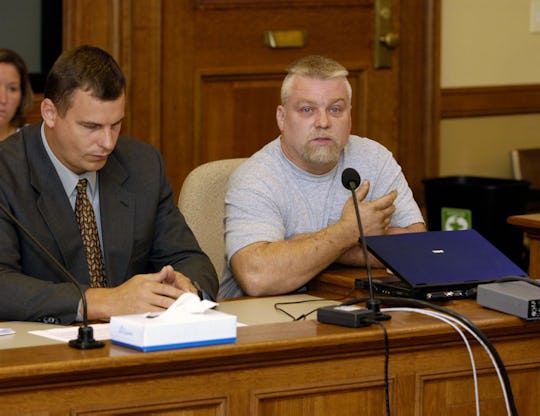 Making a Murderer/Netflix
'Making A Murderer' Filmmakers Claim Juror Believed Steven Avery Was Framed & It Could Force The Case To Be Re-Examined
Since Making a Murderer made its way to Netflix, many have looked further into how such a story could unfold. While petitions to free Steven Avery gain more and more signatures, more pieces to the puzzle are being revealed in the popular docu-series. In an interview with NBC's Today on Tuesday, Making A Murderer filmmakers claimed a juror in the case had believed Avery was framed for the 2005 murder of Teresa Halbach — and it could potentially force the case to be re-examined.
In 2003, Avery was exonerated after spending 18 years in prison for sexual assault, attempted murder, and false imprisonment. Though his sentence was later overturned, in 2005, Avery, along with nephew Brendan Dassey, was charged once again — this time for the murder of Teresa Halbach.
Since the series was made available on Netflix last month, two petitions calling for Avery's exoneration have amassed a total of 331,9995 signatures and counting. Hacktivist group Anonymous also began following the case, and in late December a now-discredited Twitter account claiming association with Anonymous threatened to release documents that would allegedly clear Avery and Dassey of any wrongdoing. In Anonymous' call-to-action, the group also accused the Manitowoc County Sheriff's Department of carrying out a vendetta against Avery.
On Today, Making a Murderer filmmakers Laura Ricciardi and Moira Demos disclosed more information about the controversial case, claiming that one juror had only voted to convict Avery under duress. "They told us really that they were afraid that if they held out for a mistrial that it would be easy to identify which juror had done that and that they were fearful for their own safety,'' Demos said.
Ricciardi continued, mentioning that the same juror admitted that "vote trading" went on during deliberation. "That was the actual word the juror used ... [they] went on to describe the jurors ... trading votes in the jury room and explicitly [saying], 'If you vote guilty on this count, I will vote not guilty on this count,'" she explained. Describing their comments as a "significant" revelation, Ricciardi then recalled how the unidentified juror had told them they believed Avery's trial was a sham:
[The juror] told us that they believe Steven Avery was not proven guilty. They believe Steven was framed by law enforcement and that he deserves a new trial, and if he receives a new trial, in their opinion it should take place far away from Wisconsin.
With the filmmakers continuing to give interviews and schedule appearances, the Manitowoc County Sheriff's Office have decided to strike back against some of the more serious claims made in the series. On Jan. 4, Manitowoc County Sheriff Robert Hermann said that footage used by Making A Murderer was altered. "In several areas throughout the film, you can see where they cut the tape and manipulated things," he claimed. "One place real evident is one of the interviews with Steven Avery in episode 5 — if you watch one video, it jumps from 3:20 to 3:21, then to 3:17, then to 3:22 and then to 3:18."
In December, the sheriff also told The Herald Times Reporter, a Manitowoc newspaper, that he considered the 10-part series — which he hadn't seen at the time — a "movie" at best:
I won't call it a documentary, because a documentary puts things in chronological order and tells the story as it is. ... I've heard things are skewed. They've taken things out of context and taken them out of the order in which they occurred, which can lead people to a different opinion or conclusion.
Nevertheless, Demos and Ricciardi are showing no signs of slowing down. During a Dec. 29 phone interview with Mashable, Demos said they're still gathering evidence on Avery's case. "The original footage is still growing," she said. "We are continuing to document the story. We still speak to Steven, we're still recording calls with him. In a way, we're still in production."
It's probably safe to assume that some more big news will be coming from them soon.
Image: Making a Murderer/Netflix