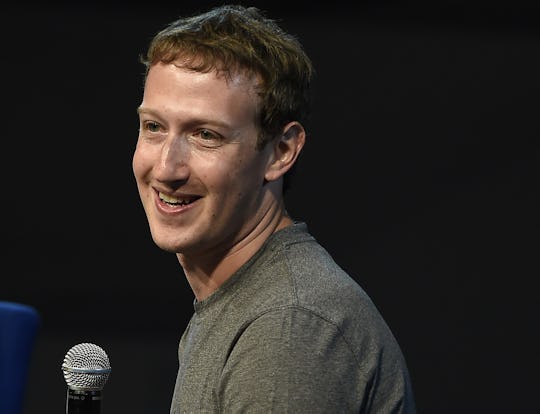 Reynaldo Schemidt/Getty
Mark Zuckerberg Made The Sweetest Christmas Gift Ever For His Daughter Max - PHOTO
It's Baby's First Christmas at the Zuckerberg-Chan home as Facebook founder Mark and his wife Priscilla celebrate the holiday for the first time with their newborn — a daughter, Max. The first-time parents have already bestowed their daughter with a pretty profound gift of essentially committing to help change the world for the better, when Zuckerberg announced the launch of the Zuckerberg-Chan Initiative along with his daughter's birth last month. It appears as though the Silicon Valley power family has opted for something much simpler in the way of gifts this holiday season, as Zuckerberg shared a sweet Christmas photo via Facebook on Friday of what looks to be a new family holiday tradition.
The photo shows a sweet little gingerbread house adorned with what looks like some gum balls, a handful of Spree candies, and possibly (?) some SweeTARTS Mini chewy candies. A charming message piped in white icing on the roof reads simply: "Welcome Max." [Insert a collective "awww!" here.] The handmade house definitely looks like it came from a do-it-yourself gingerbread house kit (no judgment!), with frosting-drawn roof shingles and little frosting windows. A frosting-piped SweeTART-adorned heart and swooshy squiggle design complete the holiday adorableness of this sweet Christmas gift for their baby girl, Max.
Here's the Zuckerberg's holiday sweetness:
Kudos for Zuckerberg and Chan for finding the time to sit down assemble a gingerbread house while juggling a newborn! I wonder what their Facebook celebrity pet dog Beast got for Christmas?
Images: Reynaldo Schemidt/Getty; Mark Zuckerberg/Facebook