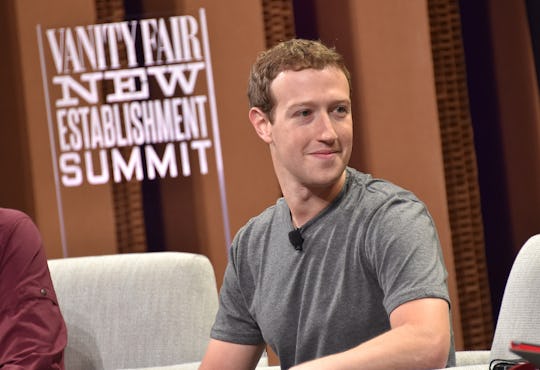 Mark Zuckerberg's Dog Beast's 'Star Wars' Costume Reignites The Battle Between Light & Dark — PHOTO
Mark Zuckerberg has plenty of time on his hands right now after the birth of his first child in November, a daughter named Max — especially since he's taking two months of paternity leave. But it seems as though all the hoopla around the new baby — late night feedings, endless diaper changes, and all the other not-so-glamorous joys of parenting a newborn — may have left the Facebook founder and his wife Priscilla Chan a bit distracted, allowing something far more sinister to brew in their home right under their noses ... It would appear that Zuckerberg's dog, Beast, has turned to the Dark Side. Ruh roh.
Beast, as you may know, is the beloved furbaby of the Zuckerberg-Chan household. Born in January 2011, Beast is an adorable mop-resembling breed of Hungarian sheepdog known as a Puli; Zuckerberg and Chan welcomed Beast into their home in March of that same year.
Beast is kind of a big deal: he even has his very own Facebook page — with an impressive 2.2 million Facebook fans, no less. He truly holds a special place in both Zuckerberg and Chan's hearts: Not only did Beast escort Chan down the aisle in Zuckerberg's surprise backyard wedding in 2012, he was front and center in the couple's touching pregnancy announcement last July. But all is not so Light it seems, as amid all the Star Wars: The Force Awakens excitement, Beast has joined the Dark Side. Introducing Beast Zuckerberg, Sith Lord:
Why Beast, why?
Okay, all kidding aside: Who doesn't love a good dog costume? The lightsaber is certainly an adorable touch.
But the bigger question remains: On what side of the Force will new baby daughter Max grow up? Zuckerberg shows us that he's starting things off right with his little one in a photo posted to Zuckberg's Facebook from Thursday: Wrapped in a signature brown Jedi-style cloak and nestled in between Chewie, Darth Vader, and BB-8 toys, Max side-eyes us with her rebel intentions (here's a little hint: Luke Skywalker's lightsaber was green, too):
It's an age-old tale: furbaby and new baby duking it out for supremacy. It just turns out that battle in the Zuckerberg-Chan home would appear to have far more galactic implications that we realized! Good on you, Mark for raising your progeny on the right side of the Force.
What a shame about Beast though.
Images: Mike Windle/Getty Images for Vanity Fair, Mark Zuckerberg/Facebook (2) Giphy (1)