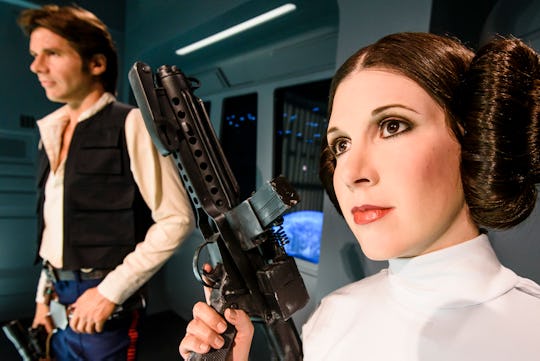 Clemens Bilan/Getty Images Entertainment/Getty Images
May The 4th Tweets Honored Carrie Fisher
Time of the year again, it is! May 4, also known as Star Wars Day, is a day for fans of George Lucas' sci-fi franchise to rejoice over the movie empire and its place in pop culture history. And, as with each year since 2011, Star Wars fans took to Twitter to honor the six-year-old holiday with tongue-in-cheek memes and puns. But this year's celebration is bittersweet; it's the first May the 4th without one of the movie's most iconic actors. Here are some May the 4th tweets that honor the late Carrie Fisher.
Fisher, known for her role as Princess Leia in the Star Wars franchise, died in late December due to heart failure. According to PEOPLE, the 60-year-old author and movie star died three days after suffering a massive heart attack on a plane headed from London to Los Angeles. She was rushed to hospital, where she stayed until her death on Dec. 26.
A legion of Star Wars fans took to social media to remember Fisher, her talent, her feminism, and her work as a mental health advocate. Here are just a handful of tweets honoring the late actor, who was a role model to millions of people across the world.
Fisher was a groundbreaking actor who showed young girls and women that not all princesses wear pink. With Princess Leia, she provided her female fans with a character that was strong, independent, fierce, and confident — something that was not common on the silver screen four decades ago. As IndieWire wrote,
Sleeping Beauty took naps. Ariel combed her hair with a fork. Leia fought for the rebellion with blaster skills and battle strategy, with no patience for those who might get in her way.
But it wasn't only her iconic role in the Star Wars franchise that made her a role model for millions of people around the world. Fisher was also an outspoken champion of mental health who fought hard against mental health stigma. As Rolling Stone reported, the late actor and writer had been "brutally honest" about her own battle with mental illness and addiction (she was first diagnosed with bioplar disorder in her mid-20s). Fisher did not want to see mental illness and addiction treated as a shameful secret, and wanted to give others the support they needed to claim their own truths.
Fisher was one of a kind; there is no actor who could fill her shoes. She's deeply missed by millions of fans. May the Fourth be with you, Carrie.