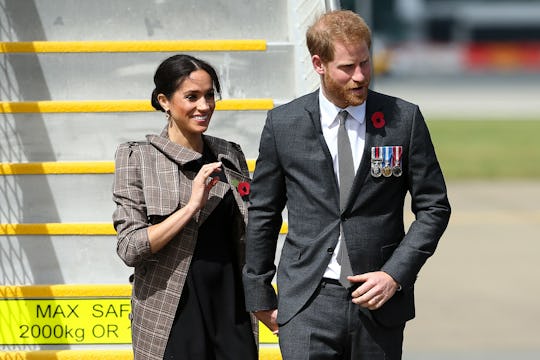 Hagen Hopkins/Getty Images Entertainment/Getty Images
That Meghan Markle Dress You Wanted Is Back In Stock & It's Still So Affordable
Megan Markle is always on-point with her wardrobe. Whether she's wearing a designer gown that costs thousands of dollars and takes a team of tailors and beadworkers months to make or something off the rack, she's sure to turn heads. Plus, she'll often choose something pretty affordable — and, needless to say, when that happens, they sell out in a flash. Such was the case a few months ago, when Markle was spotted wearing a super chic and super cheap dress as she was deplaning during a trip. But now, Megan Markle's $56 ASOS dress is back in stock, and you can get it!
The dress, appropriately named the "wiggle" dress, as it provides needed "wiggle room" during the long months of pregnancy, is not technically a maternity dress, but rather a forgiving cut with about three percent spandex in the material so that it has some give. It's a fully-lined sheath with a round neck and short sleeves. Markle wore it with a pair of the uber-comfy and hella affordable Rothy's flats, and a far less affordable Karen Walker trench. Her ability to mix high and low so seamlessly will no doubt be compared to the Duchess of Cambridge, but any fashion-loving person knows that mixing high and low is an artform, and few people do it better than New Yorkers, where Markle lived while filming Suits, as Citiphile documented.
I am enamored with ASOS. Being a 6' tall woman, I can find it really hard to find clothes that fit. ASOS has a focused feature that allows you to search by several parameters like a fuller bust, maternity, petite, plus size, or tall. And their tall pants and jackets, at least in the ASOS brand, are perfect for my 36 inch inseam. I am fully aware that this is a first-world problem of the highest order, but it can be truly frustrating to go shopping and have nothing fit. Just last night I was at Nordstrom Rack looking for a new pair of gloves, and every pair I tried was practically child-sized on my long-fingered hands.
I am willing to bet that Megan Markle is a hair more on the petite side than me, so she likely makes use of that feature when shopping for her dresses — if she shops for them herself, which seems like something she likes, given past interviews and her former website, The Tig (from when The Duchess of Sussex wasn't yet the Duchess of Sussex).
As for the flats? I'm going to let you in on a secret: I wear my Rothy's almost every single day. Sure, I have several pairs at this point, as I am wont to do, but they are my go-to shoe. I love the pointed toe flat that you see on The Duchess, as well as their adorable loafers. They have sizes ranging from a five to a 12, y'all. That's bananas. Being a size 11 myself, can I tell you how often I get to find reliably cute shoes in my size? Fat lot of almost never.
And Rothy's does not come to play. The shoes can be folded in half, washed in the machine, and they will survive if you find yourself stepping through a puddle of unknown origin in Times Square. Don't ask me how I know that.
Seriously, this dress and these shoes are a real treat, and you can buy both for under $220 right now, which is really reasonable for a dress and shoes that are so timeless and utterly wearable. Even if you only wore the dress a sum total of six times, with shipping, that's only $10 per wear. You can't do any better than that, really.
This first-time mom wants to have a home birth, but is she ready? Watch how a doula supports a military mom who's determined to have a home birth in Episode One of Romper's Doula Diaries, Season Two, below. Visit Bustle Digital Group's YouTube page for the next three episodes, launching Mondays in December.