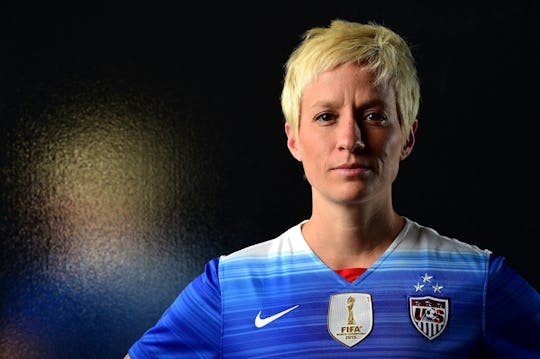 Harry How/Getty Images Sport/Getty Images
Megan Rapinoe Showed Solidarity With Colin Kaepernick, & It's A Big Statement
For silently and peacefully protesting police violence directed at minorities in the United States, NFL executives have called Colin Kaepernick a traitor, the most hated guy in the league, accused him of having no respect for his country. And the quarterback's team, the San Francisco 49ers, will likely release him because of it, according to The New York Daily News. But amid the public distaste for Kaepernick's quest for racial justice, some other prominent athletes are taking up his cause. On Sunday, soccer star Megan Rapinoe showed solidarity with Colin Kaepernick by also refusing to stand for the national anthem, asserting that she doesn't believe the United States protects the liberties of all people — and that that needs to change.
Kaepernick ignited the controversy over the "Star Spangled Banner" before a pre-season game in August, and has not stood for the national anthem since. "I am not going to stand up to show pride in a flag for a country that oppresses black people and people of color," Kaepernick told NFL Media. "... There are bodies in the street and people getting paid leave and getting away with murder."
Although his coach (and, more recently, President Obama) have defended Kaepernick's right to protest, Rapinoe's decision to actually join him is a powerful one. It shows her commitment to pursuing social justice for all, even though the focus of Kaepernick's campaign may not affect her directly, as she is a white woman.
Kaepernick launched his protest in response to police shooting deaths of black men such as Alton Sterling in Baton Rouge and Philando Castile in Falcon Heights, Minnesota, on two consecutive days in July. And Rapinoe, who plays for the Seattle Reign in the National Women's Soccer League, told American Soccer Now afterwards that she certainly knelt during the national anthem as "a little nod to Kaepernick" — as well as to recognize that as a gay American, she believes that the country can do better for more than one traditionally marginalized demographic. "It was very intentional," she said:
... We need to have a more thoughtful, two-sided conversation about racial issues in this country... Being a gay American, I know what it means to look at the flag and not have it protect all of your liberties. It was something small that I could do and something that I plan to keep doing in the future and hopefully spark some meaningful conversation around it. It's important to have white people stand in support of people of color on this. We don't need to be the leading voice, of course, but standing in support of them is something that's really powerful.
Neither Rapinoe nor Kaepernick — nor the handful of other NFL players who have joined his protest — are seeking to disrespect the United States. In fact, the hashtag #VeteransForKaepernick emerged in response to accusations that Kaepernick was doing so, and it's exactly what it sounds like: military vets rallying behind Kaepernick's quest to advocate for a more equitable society online. And Rapinoe told ESPN that she only wants to see the country improve: "We are not saying we are not one the greatest countries in world. Just need to accept that [it is] not perfect; things are broken."
By using a simple gesture to make a major statement, both of these high-profile athletes are using their platforms to encourage conversation about issues that face the Americans that they, in many ways, represent. Kaepernick put his reputation and his career at risk to do this, and now Rapinoe has potentially done the same. But both will undoubtedly consider this a worthwhile endeavor if they are able to affect real changes in policy by ensuring that their struggles and those of their fellow Americans do not fade into the background.