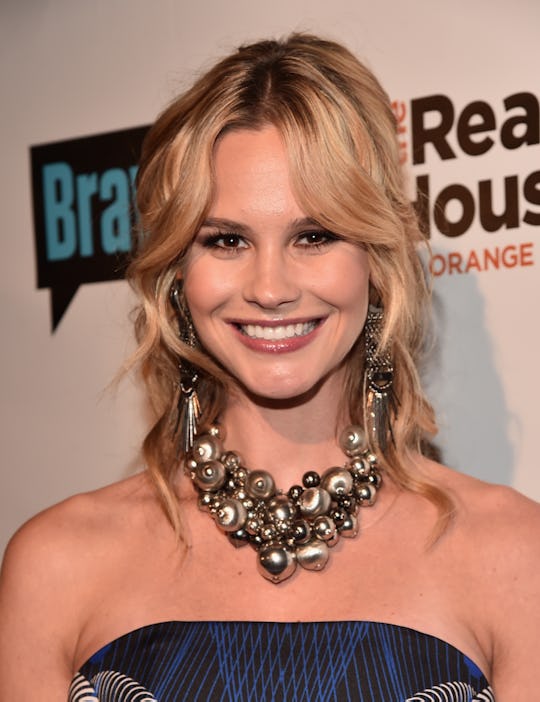 Alberto E. Rodriguez/Getty Images Entertainment/Getty Images
Meghan King Edmonds Gets Honest About Her Pregnancy Bump With Twins
Every pregnancy is different, but the difference between being pregnant with one child and being pregnant with twins can be overwhelming. Which is exactly why former Real Housewives of Orange County star Meghan King Edmonds compared her two baby bumps on Instagram and shared her feelings about being pregnant this second time around. Edmonds announced back in January that she would be leaving RHOC indefinitely, as filming coincided with her pregnancy with twins. Edmonds said in a statement that her high risk pregnancy just couldn't endure long hours of filming and fighting with her fellow cast members, which was probably the best choice.
The 33-year-old mom of Aspen, who's just about 18 months old, was really planning ahead. But there was no way she could have planned for how different this pregnancy would be than her last. In an Instagram post this weekend, Edmonds posted a selfie in a bra and underwear set, complete with a large baby bump. She's holding a picture of herself in the same undies and at the same point in her pregnancy with Aspen and asked her fans to spot any differences.
Edmonds added hashtags such as "#cantbendover #cantbreathe #measuringat43weeks #stillneedthesebabiestocook," which so many people related to in the comments. Although many couldn't spot many differences in the two photos, other than her stomach being a little lower this time around.
Although some fans shamed Edmonds for complaining (which is, by the way, the right of any woman, pregnant or not), most of her followers were supportive and shared their own stories of those very last weeks of pregnancy. Because they are not easy, at all.
One fan cheered her along, writing, "You're doing great and look gorgeous! I delivered my B/G twins at 32.4 wks and wish I could have gone awhile longer. Best of luck!" Another added, "I was induced with twins at 36w2d. You're in the home stretch and the most uncomfortable part! I couldn't even put on pants by myself towards the end. Good luck to you three!"
Edmonds told People this week that's she ready for this pregnancy to be over already:
I''m getting miserable. I feel like the babies are like, in my ears. And most definitely in my lungs. I am really struggling with breathing. You can really tell in my Instagram Stories. I'll listen to them back and I'm breathing so heavily just doing nothing. Plus, I can't feel my legs. And bending over is, like, a thing in the past.
The former reality star joked, "I'm so ridiculously pregnant, I can hardly move off the couch. We just had a cleaning lady come today — I don't even know how she did, because I'm too tired to look. That's where I'm at." In a previous Instagram pic, she shared that at 31 weeks pregnant she was measuring at 42 weeks and that the babies weighed 4 lbs. each. "Grow, babies, grow," she added.
Edmonds has moved from California to St. Louis, Missouri, so that she can be closer to her 47-year-old husband Jim, according to The Daily Mail. And she was very right to give filming a break during this particular pregnancy. Not only would being that uncomfortable definitely lead to more drama with some of the other housewives, it's just hard to juggle motherhood with a rigorous filming schedule. She wrote on her blog in January that last season was the hardest one yet:
I had a newborn and had to hire a full time live-in nanny (my cousin) so as to allow me the flexibility to meet my obligations of continuous days and long hours of filming, traveling, etc. When I was home I was a full time hands-on mom (you didn't get to see this) doing all the regular mom stuff including waking up at all hours to breast feed my baby — all while my husband worked his crazy baseball schedule around the US while I was learning how to be a first time mom.
Unloading some extra stress before the twins arrived was probably a good idea. Because if she can't breathe or bend over now, she'll likely be equally exhausted by the time the twins arrive. And that's probably happening very, very soon.