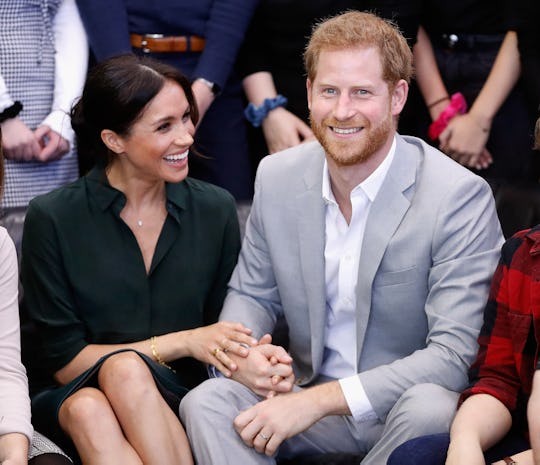 Chris Jackson/Getty Images Entertainment/Getty Images
Meghan Markle Already Has A Sweet & Meaningful Gift For Her Baby-To-Be
'Twas the pregnancy announcement heard 'round the world: Prince Harry and Duchess Meghan are expecting their first child, and the countdown to the newest royal baby has officially begun. Both Prince Harry and Meghan Markle have made it super clear that they have both not only wanted a family for a long time, but that they have intentionally taken their time getting ready to be the best parents possible. In that vein, Meghan Markle already has a gift for her child, and it's actually a really sweet memento from her acting days.
Back in 2015, Markle opened up about how she celebrated the third season renewal of her TV show, Suits, as Glamour reported. To celebrate the occasion, she invested in a really expensive watch, with the intent to share it with her future daughter one day.
"I've always coveted the Cartier French Tank watch," she once told Hello! Magazine. "When I found out Suits had been picked up for our third season — which, at the time, felt like such a milestone — I totally splurged and bought the two-tone version." Markle continued, "I had it engraved on the back, 'To M.M. From M.M. And I plan to give it to my daughter one day. That's what makes pieces special, the connection you have to them."
Early on Monday morning, Kensington Palace confirmed what many had been speculating for months: Markle is indeed expecting her first child with her husband, Prince Harry.
"Their Royal Highnesses have appreciated all of the support they have received from people around the world since their wedding in May and are delighted to be able to share this happy news with the public," the palace said in a tweet. Since, fans and followers throughout the world have gone out of their way to express their love and excitement for the soon-to-be family of three.
Though the news may seem surprising to some, those who have followed the couple closely will know that they have spoken candidly about wanting a family for years — both together, and separately prior to beginning their relationship.
In fact, during their very first interview as an engaged couple with the BBC, Prince Harry and Duchess Meghan said they'd start a family "in the near future." Previously, Markle told Best Health that one of her greatest ambitions was to start a family "in due time." For his part, Prince Harry told The Telegraph three years ago that he is "obsessed" with children, and looked forward to starting a family of his own.
News of Markle's pregnancy was sandwiched between two other royal-related events: Princess Eugenie's wedding, and news of Pippa Middleton giving birth to her first child. Though there's certainly a lot going on in the family, Markle has made it clear that motherhood is not only something she's always wanted, but something she's also spent a great deal of time preparing for.
For instance, in an interview with Lifestyle Magazine, Markle opened up about how after becoming an actress, another one of her ambitions is to become a mom. She shared:
I dreamt [of becoming] a successful working actress, which I can now very thankfully tick off the list. And I also dream to have a family... It's all about balance, and I have so much happiness in my career and am fortunate to travel the world and see so many amazing things — it will also be nice to be anchored to something grounded and in the same place. Raising a family will be a wonderful part of that.
Of course, it's a super sweet moment to realize she does not have to dream much longer, as she and Prince Harry will be welcoming the newest prince or princess come the spring.