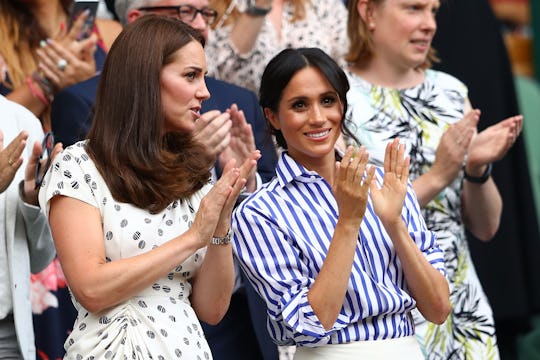 Michael Steele/Getty Images Sport/Getty Images
Meghan Markle & Kate Middleton Reunited & It Feels So Good
When it comes to the royal family I think everyone has their favorite couple. Some prefer the Duke and Duchess of Cambridge while others might be bigger fans of the Duke and Duchess of Sussex. Then there's Princess Eugenie and Jack Brooksbank, the newest kids on the block. Or maybe some want to go vintage and prefer stalwarts like Queen Elizabeth and Prince Phillip. Me? I'm all about Meghan and Kate. I need them to be best friends, which is why seeing the royal reunion of Meghan Markle and Kate Middleton made me happier than I reasonably should be. It's just... who doesn't love a good royal couple, you know? Especially if they're newfound sisters.
After spending the past few weeks apart, pregnant Meghan Markle and her sister-in-law Kate Middleton were reunited on Saturday. Oh, their husbands Prince Harry and Prince William were there too (for those who might be interested). The two couples joined the Queen, Prince Charles, his wife Camilla Parker Bowles, and other members of the royal family one day ahead of Remembrance Day celebrations for the Festival of Remembrance Service at Royal Albert Hall, according to People. The event was held in honor of all the men and women who lost their lives in World War One and Two and both women wore somber black for the occasion.
This event marks the first time the two women have been together at a function since Princess Eugenie's wedding on Oct. 12. The Duke and Duchess of Sussex have been touring through Australia, New Zealand and the South Pacific Islands for the past few weeks, while Middleton has been busy getting back into her royal duties after taking a brief maternity leave. She gave birth to her third child, baby boy Prince Louis, back on April 23; he joined 3-year-old sister Princess Charlotte and 5-year-old brother Prince George.
Despite the fact that the two women have obvious reasons for not hanging out publicly (you know, being on different continents and such), there have been media reports that the two couples have been suffering with some strained relations in recent months. People reported that Prince William and Prince Harry are rumored to be considering breaking up their shared royal court at Kensington Palace to create two offices, and royal author Sally Bedell Smith explained why this might be happening:
The arrival of Meghan has changed the dynamic of the relationship in a fairly significant way. It is inevitable and practical because it gives Harry and Meghan some freedom to build up their own collection of interests and charities.
In other words, if the two couples are going through a split, it's based on a business decision. They're probably still getting together for Christmas at Sandringham Estate, as the Express speculated, likely enjoying a roast goose and a vegan option for Markle, so everyone calm down.
I think there's a tendency to make assumptions about the relationship between Kate Middleton and Meghan Markle, mostly because they keep things private. But I prefer to make positive assumptions. That the two women have a weekly movie night and practice yoga together when they're both in town. That they're planning on Christmas shopping together.
It's just as easy to picture that as it is to picture some sad rift, and infinitely more fun.