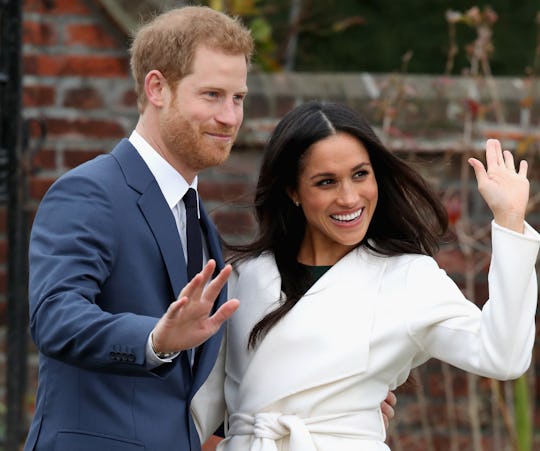 Chris Jackson/Getty Images Entertainment/Getty Images
Here's The Cute Story Behind Meghan Markle & Prince Harry's Rumored Wedding Cake Flavor
Another royal wedding is right around the corner, and considering that Prince Harry is taking an American bride in actress Meghan Markle, royal watchers on both sides of the pond are anxious to learn all they can about the big day. So far, details about the upcoming wedding are pretty scarce, with the facts that it will happen in May at St. George's Chapel at Windsor Castle among the few confirmed details. That is, in addition to the new report that Meghan Markle and Prince Harry want a banana wedding cake, which would be a sweet deviation from tradition with an adorably romantic backstory (although it is, admittedly, not officially confirmed).
As such details about the lives of the rich and the famous often do, this tidbit comes from an anonymous source, this time speaking with England's The Telegraph. "This will be the first royal wedding cake made from bananas," this mysteriously unnamed person reportedly told the publication, which also reported that the prince has a particular taste for anything made with bananas. But that's not the whole reason why the couple is reportedly going with that flavor — at least, it's not the aspect of the story that's more likely to catch the public's imagination.
Nope, that would be the appearance that the fruit is a bit of a romantic symbol between Markle and Harry.
Editor's Note: The Instagram post has since been deleted.
Instead, here's why a banana-flavored cake may taste extra sweet to the lovebirds on their wedding day: Last October, when rumors first began to circulate that Markle and Prince Harry, neither immediately confirmed the news. Instead, Markle took to Instagram to post a photo of two bananas nestled side by side, fashioned with drawn-on faces and arms to make it look as though they were a man and a woman cuddling. "Sleep tight," she captioned the pic, eventually updating it to include that it was the work of Tanya Spee.
Of course, the rumors that Harry and Markle were together turned out to be 100-percent true, and they ultimately announced their (royal) engagement a little more than a year later. With that, the public can only assume that the wedding planning commenced in earnest while keeping an eye out for details such as the wedding cake flavor. And it's a notable one because, according to The Telegraph, British tradition actually dictates that the top tier of a wedding cake be a fruitcake. That's because that flavor of cake will generally keep long enough to be eaten at the christening of the couple's first child.
Also, at the end of the day, it doesn't hurt that Harry is a big fan of banana. In fact, Darren McGrady, the former royal chef who cooked for Prince Harry and his older brother, Prince William, when they were children, previously told Hello! Magazine that both of the young royals "loved banana flan, anything with banana really, banana ice cream." Also, it won't be the first time that royals have messed with tradition a little bit to better suit their own tastes. According to People magazine, Prince William opted for a groom's cake made of chocolate biscuits when he married Kate Middleton in 2011, for example. Their reception featured the traditional eight-tiered wedding cake as well.
Whatever the wedding cake flavor, there is little doubt that this wedding will prove itself to be a gorgeous and historic affair. Much more striking than a banana cake could ever be, of course, is the fact that Markle is an American as well as a woman of color marrying into the royal family.
Congratulations to Meghan and Harry — all your fans will surely go bananas for you when your wedding day finally comes.