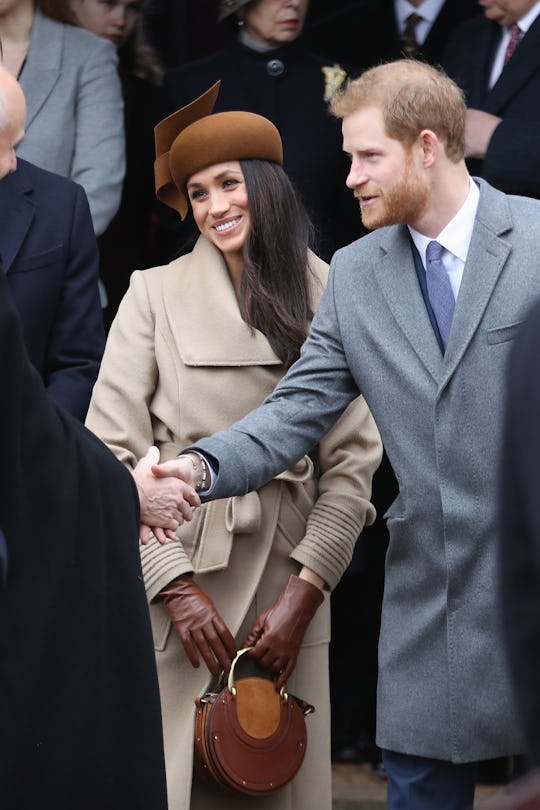 Chris Jackson/Getty Images Entertainment/Getty Images
What Meghan Markle & Prince Harry's First Christmas As A Married Couple May Look Like
Though Christmas 2017 was the Duchess of Sussex's first Christmas with the royal family, Christmas 2018 will be her first holiday season as a wife and an official member of the famous brood. So what will Meghan Markle and Prince Harry's first Christmas as a married couple look like this year?
This is a family that is chock-full of tradition, so this Christmas is bound to look a lot like all the others that the family spends at their Sandringham estate. This year will feature one big difference for the new couple though: their own digs.
In 2017, Prince Harry and Markle stayed with Prince William and Kate Middleton at their home on the estate, Anmer Hall, as Prince Harry previously told Radio 4's Today program. Anmer was a gift from the queen to the couple when they married, according to Metro. When Prince Harry and Markle married in 2018, the queen followed suit, giving them the gift of a home at Sandringham named York Cottage, as Metro reported. This year the couple will be able to stay there if they so choose, but everyone is also welcome to stay with the queen at the estate's main home, according to Hello! Magazine.
This Christmas could also be a little different for the royals as they might have a new guest. The queen has reportedly extended an invitation to Markle's mother, Doria Ragland, to join the family at Sandringham if she'd like to, according to Glamour. The publication reported that this really is a sign of the queen's respect for Markle, a palace source said, since non-members of the family don't usually spend the night.
What a great boost for Markle it would be to have her mother there with her, especially as she experiences her first pregnancy.
Should Ragland choose to join the family, what she will find is a holiday steeped in fun traditions. After everyone is gathered at Sandringham the family does a gift exchange on Christmas Eve of funny, gag gifts. Hello! Magazine reported that one year Middleton gave the then-single Prince Harry a grow-your-own-girlfriend kit!
A royal holiday also features lots of food, starting with a tea served on Christmas Eve before gifts are opened, a former royal chef told the Daily Mail. That's followed by a formal dinner at 8 p.m., followed by nightcaps for the men, as noted by the Daily Mail. The next morning, most of the women opt for a light breakfast while the men gather in the dining room for more hearty fare before church. And after the service, it's a traditional Christmas feast at 1 p.m., according to the publication.
Amidst the food comas, the royal family still finds time for fun, holding an annual game of charades which, Prince Harry reportedly told Markle, the queen has to win, according to HelloGiggles. Markle may have to do her best to subvert her acting skills to let the sovereign come out on top, but apparently the queen is quite the actress herself, so it shouldn't be too hard.
No matter what happens, though, it will be a Christmas full of love and joy for the newlyweds, as they spend it with loved ones and look forward to next Christmas: their first as parents.
This first-time mom wants to have a home birth, but is she ready? Watch how a doula supports a military mom who's determined to have a home birth in Episode One of Romper's Doula Diaries, Season Two, below. Visit Bustle Digital Group's YouTube page for the next three episodes, launching every Monday starting November 26.