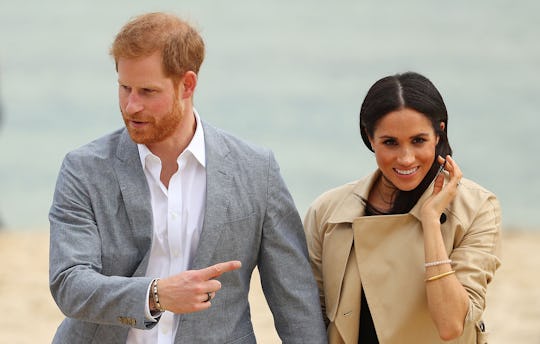 Scott Barbour/Getty Images Entertainment/Getty Images
Meghan Markle Said She Has A "Long List" Of Baby Names, But She May Have Already Dropped A Hint
I'm really happy about that the Duke and Duchess of Sussex announced their pregnancy while on tour in Australia and New Zealand. Because they seem to be especially candid and free with precious little tidbits about their precious little bundle. Maybe it's because they are spending a whole lot of time with kids, who clearly ask the darndest things, but the newly married couple are being pretty open about their private lives. In fact, Meghan Markle revealed she has a "long list" of baby names, but there's a possibility she might have dropped a specific hint about which name she prefers.
While the couple were riding a tram from Melbourne, Australia on Thursday, according to Us Weekly, they happily fielded questions from kids about pretty much anything and everything — even (gasp!) their newly announced pregnancy. Kensington Palace shared the happy news via Twitter on Monday, writing in a statement, "Their Royal Highnesses the Duke and Duchess of Sussex are very pleased to announce that the Duchess of Sussex is expecting a baby in the Spring of 2019."
Since the announcement, which came just as the two began their 16-day tour of Australia and New Zealand, the whole world seems to be gripped with royal baby fever. Even the young children of Australia, apparently.
While traveling by tram with school kids to visit a local beach, according he Evening Standard, the Duke and Duchess of Sussex fielded a question from curious 12-year-old Charlie Wolf about whether or not they have a baby name in mind. To which Markle replied, as per The Evening Standard: "We've been given a long list of baby names from everyone. We're going to sit down and have a look at them!"
She also noted that it was still a little early to make a decision, and I'm sorry Meghan Markle but I beg to differ.
So this brings up so many other questions for me. First of all, who is giving them this list of names? Is it, like, an official list handed to them from the royal family or something? Because, as with everything with the royal family (don't even get me started on that weird nail polish thing), there are certain rules and traditions expectant parents are meant to follow.
For instance, Town & Country reported that the name of a royal baby is generally expected to honor past monarchs; the Duke and Duchess of Cambridge named their oldest son Prince George after Queen Elizabeth's father King George V, while Princess Charlotte's middle names pay homage to the late Princess Diana and her great-grandmother, Queen Elizabeth. Considering the fact that the Queen herself needs to approve of the name, it's probably a good idea to slide her name in there as insurance.
That being said, it's important to remember that Markle was her own independent person long before she met Prince Harry. A woman with ideas about what she wanted in life... and what she might want to someday name her child. Back in 2015, Markle gave a lovely little hint about at least the initials she would choose for her baby. The former Suits actress told Hello! magazine that she treated herself to a Cartier French Tank watch, to give to her child someday. And she was so sure of what she wanted to name her baby, she even had the initials "M.M." engraved on the back, as Glamour reported. According to Business Insider, she said at the time:
I had it engraved on the back, "To M.M. From M.M." And I plan to give it to my daughter one day. That's what makes pieces special, the connection you have to them.
Could this mean she might name a baby Mary, after Queen Elizabeth's own beloved mom? But what if she gives birth to a son? It's not like there are a lot of "M" names in the British royal family for men. Plus, I think it's safe to say that Prince Harry might have a say in the name too... and he might want to honor his own mom, the late Princess Diana, with a name.
The good news is that royal babies tend to have a whole bunch of names, generally four or so, according to Glamour, which means they will be able to include loads of people.
I suppose we shall have to wait until spring to find out, shall we?