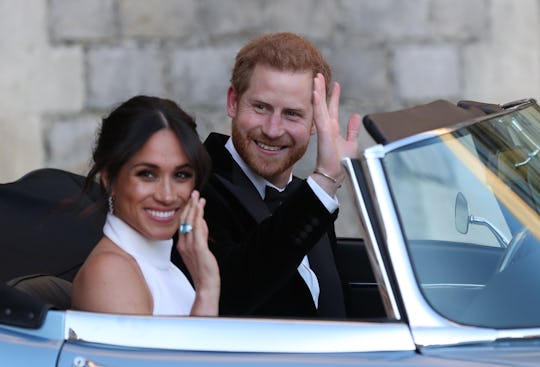 WPA Pool/Getty Images Entertainment/Getty Images
Meghan Markle's Biography On The Royal Family Website Is Yet Another Break From Tradition
Prince Harry and Meghan Markle's wedding was full of touching moments that all focused on unity and family. While her wedding was beautiful, the clearest sign that she's officially part of the monarchy is Meghan Markle's biography on the royal family website, as CNN reports, which highlights all of her accomplishments before and after meeting Harry. The way the palace lauds her activism is a very big sign that she and her husband plan on working hard to make a difference with their royal platform.
When she and Harry took their vows, they were officially named the Duke and Duchess of Sussex, which is how she is listed on the family's site. In the biography, the palace quotes Meghan as saying that she is "proud to be a woman and a feminist" and runs through her experience working with the United Nations and other charities worldwide.
The palace lists getting an advertisement changed because of sexist language when she was just 11 years old and working in a soup kitchen on Skid Row, Los Angeles as a teenager as some of her earliest humanitarian efforts. It writes, "These early experiences helped to shape her lifelong commitment to causes such as social justice and women's empowerment."
The biography also lists her travels and ambassadorship with UN Women and One Young World to show that Markle has dedicated a large portion of her life to service to others and will likely continue to do so alongside Prince Harry as a representative of the royal family.
It's refreshing to see that Markle's royal biography focuses on her charity work and dedication to empowering women worldwide. Putting Markle's feminism front and center is a sign that the palace is ready to have a strong woman at the helm of its public outreach, which is something she's particularly suited for. It will be really exciting to see what Markle and Harry can get up to when they devote their energies to changing up what it means to be a royal.
While many people might still think of the royal family as being reluctant to change and moored in stuffy traditions, its full on acceptance of Markle this weekend shows otherwise. It's not just that they celebrate her talking about her feminism in her official biography, but her wedding day broke with all sorts of sexist traditions that usually get lost in the pomp and circumstance of a royal wedding. Markle made sure that didn't happen.
To begin, her mother, Doria, was her only family member in attendance. Then, instead of being walked down the aisle by her father, Markle entered St. George's Chapel at Windsor Castle with just a handful of page boys behind her carrying her train. Prince Charles took her arm about halfway through, but Markle technically walked herself down the aisle, which is basically unheard of when it comes to royal weddings. (Or any wedding at all, really.)
In addition to that bold entry, she and Harry reportedly took on most of the planning for the ceremony and added all of their own personal touches, such as bringing in an American gospel choir to perform during the service and Bishop Michael Curry from Chicago to give a sermon. When it ended, Harry turned to Meghan and said "wow," in just one of many candid, intimate moments between the couple caught on camera throughout the day. That they aren't afraid to show their emotions for each other in public is a big deal — the British "stiff upper lip" is no more.
Later in the day, Markle broke even more royal traditions at her reception by giving a toast to herself, something royal brides, and regular brides, don't often do. It's the simple things like that, in addition to calling her a feminist in her official bio, that are really big signs that the monarchy is ready to switch things up a bit.
Prince Harry is definitely up for it. He said in an interview with Newsweek last year that he is determined to have a "normal life" and modernize the royal family's image. He said:
My mother took a huge part in showing me an ordinary life, including taking me and my brother to see homeless people. Thank goodness I'm not completely cut off from reality. People would be amazed by the ordinary life William and I live. I do my own shopping.
He added, "Sometimes, when I come away from the meat counter in my local supermarket, I worry someone will snap me with their phone. But I am determined to have a relatively normal life, and if I am lucky enough to have children, they can have one too. Even if I was king, I would do my own shopping." It's that kind of attitude that likely drew him to someone like Markle in the first place.
With the royal wedding already a thing of the past, the couple should probably recuperating somewhere in the palace. But it will be definitely be interesting to see what kind of work they get up to going forward. If Markle's biography on the royal website is any indication, the palace is expecting them to get busy changing the world very soon.