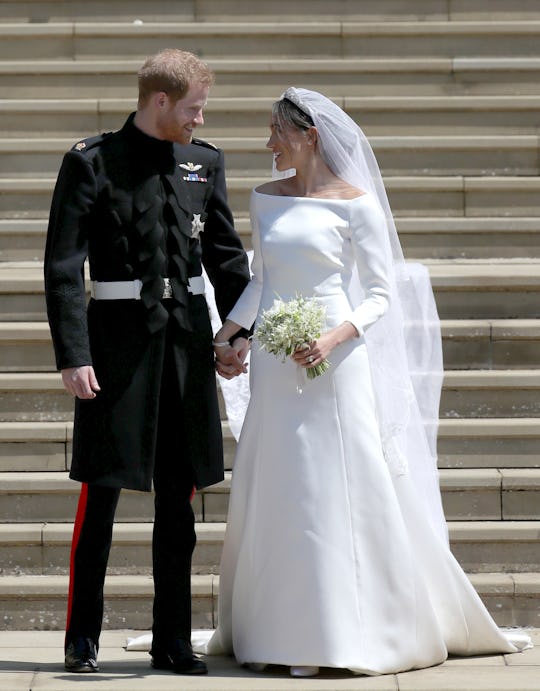 WPA Pool/Getty Images Entertainment/Getty Images
Actually, Thomas Markle May Not Have Attended Meghan's First Wedding Either
Meghan Markle, the Duchess Of Sussex, is basically living a real-life fairytale: not only was she a successful television actress, she then happened to marry an actual British prince, and is now literal palace-dwelling royalty. But she's certainly had to deal with her fair share of family drama. After falling out of favor with the royals following his decision to stage pre-wedding paparazzi photos, her father, Thomas Markle ultimately skipped the royal wedding, reportedly for medical reasons. But it turns out that Thomas Markle may not have attend Meghan's first wedding either, and that revelation doesn't exactly seem to be helping his argument that he's being unfairly iced out by his daughter and the British royals for no good reason.
Before she married Prince Harry in a lavish wedding at Windsor Castle in May, Meghan was briefly married to film producer Trevor Engelson — the two tied the knot in 2011 after seven years together, according to The Express, though they ultimately split two years later (Meghan's Suits filming obligations and their subsequent long-distance relationship is said to have been to blame). Meghan's first wedding was markedly different from her formal, televised nuptials at St. George's Chapel though: according to The Telegraph, Meghan and Engleson wed at a beachside resort in Ocho Rios, Jamaica, in front of about a hundred guests. And though the second time around, she went for an elegant and polished look in a custom, long-sleeved Givenchy gown and a borrowed tiara (the Queen Mary Diamond Bandeau, to be exact), her 2011 look was decidedly more casual — according to The Mirror, she wore a simple floor-length strapless dress and left her hair loose to exchange vows with Engleson.
But as different as the two weddings seem to be, there is apparently one major similarity: only one of her parents actually showed up. Meghan's mom, Doria Ragland, was a big support for her daughter on both wedding days — Ragland notably appeared by her daughter's side as they arrived together at the Cliveden House Hotel the night before her wedding in May, and she and Meghan are also said to have spent the morning together poolside on the day of her first wedding, according to The Mirror. But while it's not clear exactly why, Thomas also seemed to have missed the opportunity to watch his daughter get married the first time around, and it could be a sign they may not have been close for quite a while.
Given that Thomas has repeatedly taken aim at Meghan and Harry in media interviews in previous months — he told The Daily Mail in July that Meghan had "cut [him] off completely," and changed her phone number without telling him, for example, and also claimed that Prince Harry's late mother, Princess Diana, "would have loathed the way [he's] been treated," by the royals — it's not exactly a surprise that Meghan probably isn't jumping at the chance to reconcile with her dad at the moment. In fact, in his most recent interview, Thomas even told The Daily Mail that he actually lied to Prince Harry over the phone about staging the paparazzi pics, and told him "Maybe it would be better for you guys if I was dead…then you could pretend to be sad," before hanging up.
Needless to say, Twitter hasn't been particularly impressed by his conduct, and, to some, his apparent absence from Meghan's wedding is starting to make a whole lot of sense:
More than anything, Thomas' comments just seem embarrassing, and they also are likely majorly stressful and hurtful to Meghan herself. But if it's true that he was also not at her first wedding, their relationship may very well have been strained long before Prince Harry ever came into the picture.
Either way, it's clear that, as is the case in many families, Meghan's relationship with her dad is probably pretty complicated, and his version of events is probably far from being the whole truth. But honestly? For the sake of his daughter's feelings, it seems way past time he stop talking to the press, and respect her desire for privacy.